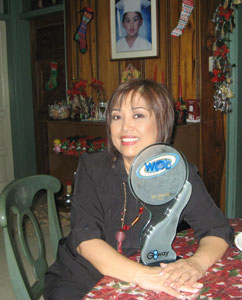 My blog , this blog Touched by an Angel… Receiving the Best Website award , blog category of the 9th [tag]Philippine Web Awards[/tag] is a bittersweet feeling. The theme of this blog is mainly about my grief journey. I've had websites, and other techie blogs in the past but a personal blog was not part of my plan. It was Luijoe's death and my grief that spurred me to start a blog, and share my pain so others may know they are not alone. All of us experience pain or losses one way or another. It could be the pain of losing a boyfriend, a girlfriend, a spouse, losing a job, losing a parent or losing an opportunity. It could be the pain of an illness , a philandering spouse, a rebellious child and other life changing events. Pain is a universal theme. We all know that.
Another kind of pain struck me tonight. A pain in the ass kind of pain. My "annoying husband" kept blabbering over and over again that "You are going to win." I was stressing over my "future" husband's disappointment if ever I lost the award. I just wanted him to shut up because it's not a big deal. Don't get me wrong. Even if he was annoying that night, he's still a darling . It didn't help that the rock bands played deafening bass sounds leaving my heart pounding a thousand times.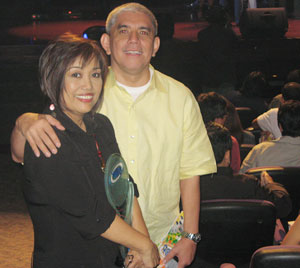 I was actually surprised to win because I thought this blog's theme might appear depressing to the judges. Also, my blog design is not original. In fact, I just used one of those freebie templates. I was planning to customize the design with a new header but it was against the rules to do so once you are in the semi-finals. I am assuming it's the content that got me the judge's nod. Thanks to the judges. One of them might have been BryanBoy. I appreciate the award because it means more exposure for my blog. More exposure means wider reach to readers who might find comfort with my blog entries. The prize money will go a long way in funding projects for my advocacy, The Compassionate Friends. I placed the award on Luijoe's Memorial Table (it's behind me in the photo above) as this belongs to him too.
Congratulations to the other winners of the 9th Philippine [tag]Web Awards[/tag] . View photos of the award ceremony
Thank you for this [tag]Best Website Award[/tag], Blog Category.