UPDATED: Visit the new Pinoy Idol blog.
December 11, 2006– Results Night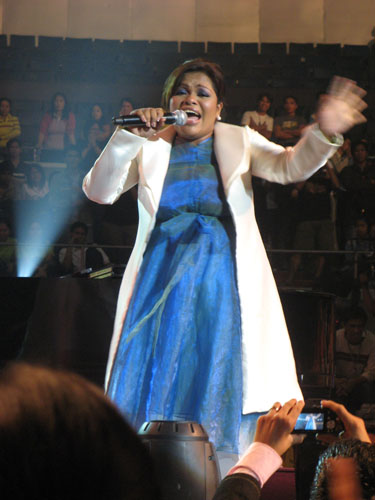 Mau Marcelo is the First Philippine Idol! Congrats Mau! You deserve it. Your fans made it possible for you to win. View Photos of the First Philippine Idol Results Night and blog entry Mau Marcelo, A Philippine Idol Cinderella Story.
December 10, 2006– Big 3 at the Big Dome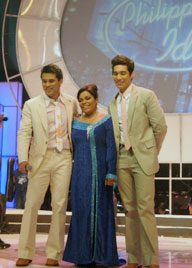 Weekends for the past three months revolved around watching the live shows of Philippine Idol in SM Megacinema 3. I think my husband is finally relieved it will be over tonight. He had to endure 12 agonizing weeks accompanying me to the Philippine Idol Theater. My husband is not a very patient man when it comes to waiting time before the shows or grabbing parking space just to watch Philippine Idol. Tickets were getting more and more difficult to get even if we had reserved tickets . Tickets to the Finale of [tag]Philippine Idol[/tag] Top 3 Finalists were even more difficult. Just as I predicted, we had no tickets. Fortunately, our faces are so known to the Philippine Idol staff . We got patron seats and were seated close to the stage once again. Thanks Evelyn Joseph. Orange, blue and yellow themed cheering fans filled the Big Dome. In the beginning, the audio sounded horrible that I could barely hear the judges. I don't know how it sounded on TV.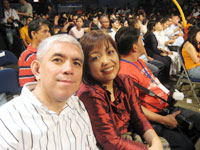 During the interview with DJ MO Twister who was seated two rows in front of us, I caught my husband's white hair glistening on the TV monitor. Unsure that it was my husband, I pushed his shoulder to see if his head would bob onscreen. Haha, it was really him. You can view the gleaming white head of my husband in this Youtube video (thanks pinoy.rickey.org)
I felt that the performance wasn't really that fantastic tonight with the exception of Jan Nieto. Who do I think will win? Even if I am rooting for Gian, I think the first Philippine Idol might be Jan Nieto. Why? First, he had the loudest and most organized fan base inside the Big Dome. Second, he stood out among the 3 finalists in at least 2 categories . Third, he has a strong voting bloc. I don't really mind anymore who will finally hold the title of Philippine Idol. Gian lacked the enthusiasm and the drive. He was like the usual Gian. Predictable. The audience went wild after Mau's last song. During the commercial break, Mau broke down in tears. Later on she told the crowd that she was touched with the song's lyrics.
DJ Mo Twister predicts Jan Nieto will win Philippine Idol. The three finalists are excellent singers and performers. Tonight, I will watch the results at the Big Dome. They said tonight is the most exciting show of the Philippine Idol season. A lot of nervous fans are eagerly awaiting the fate of their Idol. I hope to make it in time after our 10th Worldwide Candle Lighting Event today.
Just read Jove Francisco's recap as he wrote a lot of details that I am too lazy to blog about.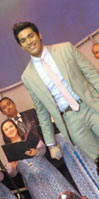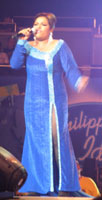 View Philippine Idol Finale Photos
Pow Fans


Enlarge