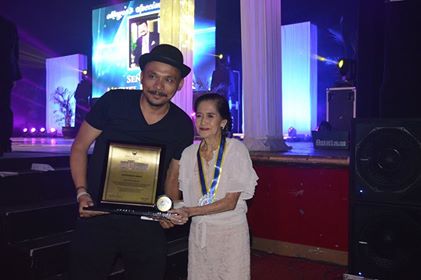 Update: Last February , 2018 the City of Cebu honored the composer, Vicente Rubi for his Contribution to Music. Ludivina Rubi Najarro, his lone surviving child received the award.

Kasadya Ning Takna-a ("How Joyful Is This Season") is a classic Christmas Carol and my favorite Filipino Christmas Carol. I still remember the lyrics by heart because I used to sing this upbeat Christmas song as a little girl while caroling with my friends in Cebu.
Listen to Kasadya ni Takna-a on Spotify.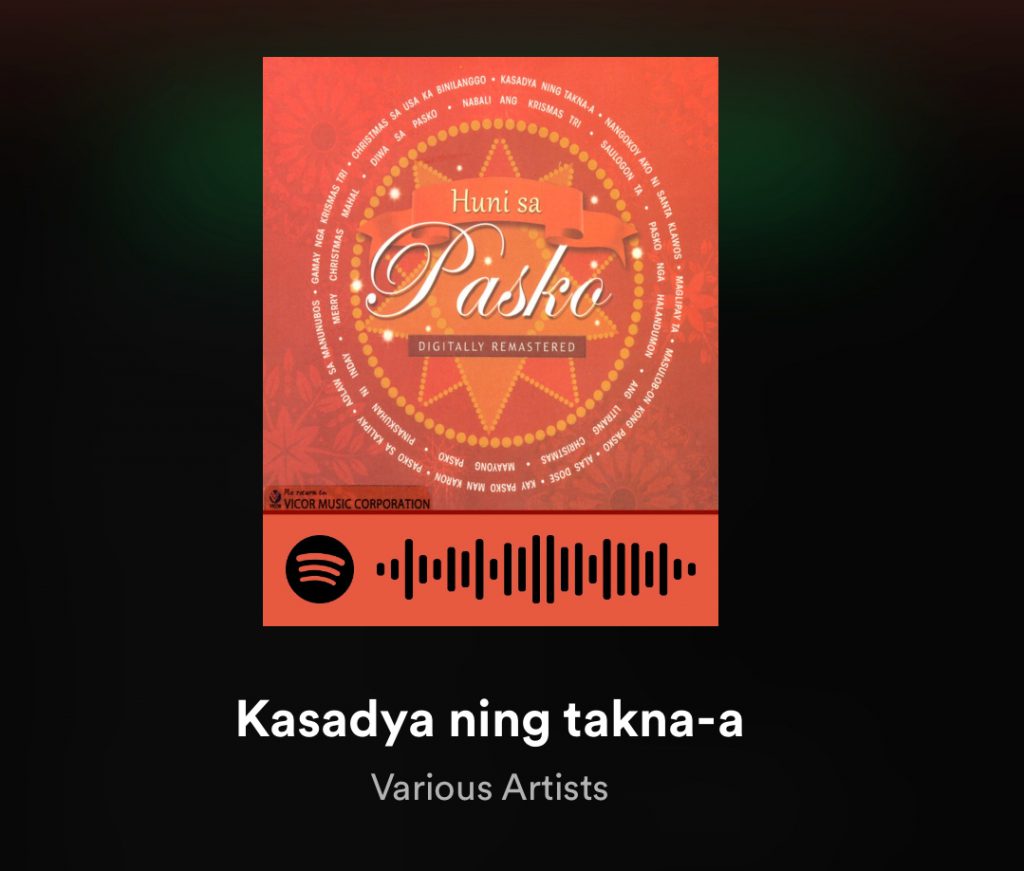 Preface:
Kasadya ning taknaa
Dapit sa kahimayaan
Mao'y atong makita
Ang panagway'ng masanglagon
Bulahan ug bulahan
Ang tagbalay nga giawitan
Awit nga halangdonon ug sa tanang Pasko
Magmalipayon!
Chorus:
Repeat Preface
Bag-ong tuig
Bag-ong kinabuhi
Duyogan 'ta sa atong gebati
Atong awiton aron sa kalipay
kita makaangkon!
Chorus
Preface
Awit nga halangdonon ug sa tanang Pasko magmalipayon
I am sure the song is more familiar to you if sang as Ang Pasko ay Sumapit, a popular Filipino Christmas Carol and the Tagalog adaptation of the 1933 Cebuano carol. Ang Pasko ay Sumapit first hit the airwaves when I was a teenager but I was horrified to hear my favorite carol sang in a different accent and beat. It's not the same., I cried inside. I don't hear the rondalla introduction of the song. It sounds horrible. I thought. The heavy (maragsa) accent that added vigor and festiveness was just not there in the Tagalog version. I'm sure if you heard the Tagalog version, you would appreciate Ang Pasko ay Sumapit but I first heard it sung in Visayan!
Listen to this:
For me, Ang Pasko ay Sumapit is NOTHING compared to the joyfulness of the carol if sang in Visayan. The closest Tagalog version that follows true to the original version is the one sang by the Mabuhay Singers. Even the meaning of the lyrics are different.
But what makes the song even pathetic is the composer was paid a measly price for the Tagalog version. Here is the story of the Cebuano composer, Vicente Rubi.
A gentle Cebuano composer Vicente Rubi jotted down the notes of this daygon (carol) for a Christmas festival that year. Mariano Vestil, another Cebuano, wrote the lyrics. Forgotten Today, carolers in Cebu still sing the lilting beat and lyrics that the now-barely-remembered Rubi and Vestil blended 70 years ago. Bulahan ang tagbalay nga giawitan ("Blessed the homes that carolers sing to"). …."It's the supremest of ironies in a country that boasts of the longest celebration of Christmas," Jullie Yap Daza wrote in the Times Journal in 1978. "But not a trace of effort has been made to attribute the beloved carol Ang Pasko Ay Sumapit to its author, Vicente D. Rubi." By then, Rubi was an old impoverished widower, confined in a Cebu hospital. His carol had been hijacked by a recording company for 150 pesos.

Cebuanos recall the frail old man would shuffle to teach carolers, at his gate, how to sing his carol right. "Nong Inting" died in 1980, denied "what is due him in royalties," now Manila Standard editor Yap-Daza wrote. This is raw exploitation. Today's jargon calls that "Intellectual Property Rights" theft.
I heard Kasadya Ning Takna-a sang a few years ago and nearly choked in tears at the thought of Vicente Rubi never being paid royalties by that greedy recording company. Whenever I listen to Ang Pasko ay Sumapit, not only do I feel strange hearing it sung in a different tone but I feel history should give more credit to Vicente Rubi.
Bagong tuig, bagong kinabuhi, the Cebuano original, and its Tagalog adaptation, proclaim. It echoes the Advent cry of Isaiah: "Break the fetters of injustice … and break every yoke/ Then, will your light break forth as the morning."
Where is the justice due Vicente Rubi?
Though more than 70 years have lapsed and royalties are way past the 50 year mark, I will honor Vicente Rubi in this blog for all the world to know him as the composer of Ang Pasko ay Sumapit, the Tagalog version of Kasadya Ning Takna-a.
One day, I hope a music producer will come out with the Kasadya Ning Takna-a , the original daygon version. Hopefully, this forgotten Cebuano Carol will once again claim its rightful place in Philippine music.
How joyful is this season if we remember Vicente Rubi.
What is your favorite Christmas song?