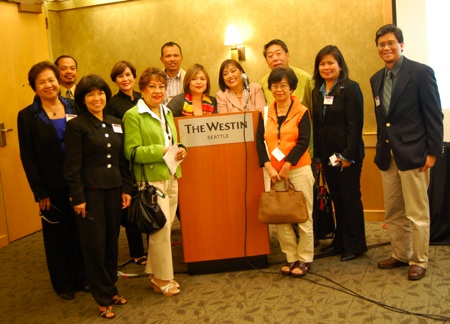 In the photos are FUTURE Bloggers who are active Filipino American leaders such as Yolanda Stern (President, Federation of Philippine American Chambers of Commerce), Jose Pecho (Chair, Regional NAFFAA Northern California) Larry Flores (Seattle Transportation), Maurese Owens and more!
My sister, Lorna, is quite active in the Filipino-American community . It is no wonder that she initiated a workshop, How to be a ""Techy" Non Techie with Internet and Technology Tools to Effective Communication for the National Federation of Filipino American Associations' (NaFFAA) 8th Empowerment Conference in Seattle on September 26-28. The goal of the workshop was to provide a quick overview of "techy" stuff for the emerging or seasoned community leader to complement their grassroots efforts in advocating social change by using some of the exciting and simple internet and technology tools.
The thing was she didn't feel confident about the blogging part. I taught my sister to blog in 2004 even way before I started my personal blog but she felt I could best handle the techy part.