For the latest Philippine news stories and videos, visit GMANews.TV)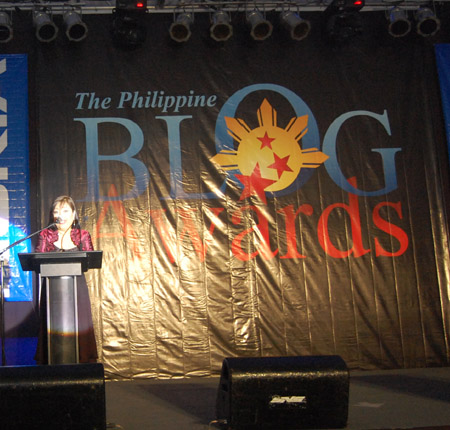 View Photos of the 2008 Philippine Blog Awards
Technology
A niche blog that focuses on developments and news about Technology. But what is technology? In its most simple definition Technology refers to the tools and machines that are used to solve real-world problems. Such tools and machines need not be material in this sense it can be virtual. So a Technology Blog could be a blog about the Internet, software, mobile phones and television sets. Each are tools that are used to solve real-world problems.
And the winners are:
Blog: PinoyBlogero.com
Single Post: The Making of Lakbayan (Part2)
Travel
A blog that focuses on the different aspects traveling for an extend period of time from point A to B. It may be a narrative or even an advice post focused on a trip or destination.
And the winners are:
Blog: Ironwulf.net: En Route
Single Post: How I broke a ritual taboo in Batad
Entertainment
A blog that focuses on news and commentary about the entertainment industry. This covers the following areas of show business – from television shows, film, popular music and concerts. It may also cover personalities and people involved in show business.
And the winners are:
Blog: The Professional Heckler
Single Post: Manila's Movie Theaters
Sports
A blog that reports and discusses events and issues about Sports. It could be about boxing (both pro and non-pro) or it could be about marathon running. More often the distinction here is that this blog covers competitive sports.
And the winners are:
Blog: The Bull Runner
Single Post: Sports: Garmin Vs. Nike: A test of accuracy
Food & Beverage
A blog that focuses on the food and drink. A description of it. The manner by which it is cooked or served. The history or chronicle of it. A critique of how food is cooked and served. And even the personal experience of eating in a particular place or time. It could be scientific or literary as long as it is about Food & Beverage.
And the winners are:
Blog: No Special Effects
Single Post: Marketman Learns How to Make Tinapa from Scratch!!!
Family & Living
A blog that focuses on things about the family and how to live and enjoy life. It tackles family issues and chronicles family occasions. It also covers how to improve one's life and one's life by improving the home and family environment with a better designed living room or a unique experience for the family or the individual.
And the winners are:
Blog: The D Spot
Single Post: Me and Tia Inez
News & Media
A blog that focuses on News & Media. It could chronicle the life of a journalist and it could also be a blog that primarily tackles issues and events covering News and Media.
And the winners are:
Blog: tonyocruz.com
Single Post: Confessions of a "New Media" Heretic (or, the jester-in-exile throws yet another gauntlet before the MSM "priest caste")
Business/Entrepreneur
A blog that represents or is the face of business. The posts we find here tackle the daily grind and important news of an enterprise. It will also contain news and updates about the business and its product or products.
And the winners are:
Blog: Pinoy Web Start Up
Single Post: Ang Tibay Naman
Hobby/Recreation
A blog that focuses and discusses about pastimes and hobbies. It is the thing you do on your spare time and it may or may not be competitive. It could be about hiking a mountain or stitching a quilt. It could even be stamp collecting or keeping fishes called Green Terrors. It is something you enjoy doing in your spare time and not covered by the other categories. For example, a blog about basketball belongs to the Sports category but a blog about collecting basketball trading cards belongs to the Hobby/Recreation category.
And the winners are:
Blog: Comicology
Single Post: Limatik (Blood Leeches): An overview
Fashion & Lifestyle
A blog that focuses on beauty and clothing. Anything to do with how one looks and how dresses. It may cover blogs that concentrate on beauty products or even one about mustache. It could cover events, advice and opinion related to fashion and beauty products.
And the winners are:
Blog: Pinoy Guy Guide
Single Post: Fashion: Camo Comes Out Of Hiding
Photo Blog
Is a blog composed of photos chronologically arranged or posted. It is not a gallery but a post maybe composed of more than one photograph scanned from film or taken with a digital camera – cellphone, point-and-shoot, and DSLR.
And the winners are:
Blog: lostphotograph
Single Post: Urban Cave
Culture & Arts
Is a blog that focuses on the different forms of art whether they be literary, visual, performance and musical art. The posts found in this blog could be a feature of a play; a post reporting on a cultural event, a review of a book or a critique of a play.
And the winners are:
Blog: GIBBS CADIZ
Single Post: EJ: Ang Pinagdaanang Buhay nina Evelio Javier at Edgar Jopson – A Review of a Rocking Relevant Musical
Commentary (Social, Political, Science & History)
This blog focuses on the commentary and expository blogs. These are not only blogs that talk but discuss. The topic they covered a variety of topics from Social, Political, Historical and even Scientific posts.
And the winners are:
Blog: Creature Lover
Single Post: The Problem of R.A. 9439
Videocast/Podcast
The blog that posts sound or moving images: podcasts and videocasts. These are the items we download from the blog or delivered to us by RSS. They may span from one minute to an hour.
And the winners are:
Blog: CokskiBlue – Pinoy Vlogs, Videos and Vodcasts
Single Post: Video/podcast: Episode 28: We Love Trinoma! (A Video Spoof)
Personal
A blog that covers the personal. A diary or a journal a record and treasure chest of one's thoughts and ideas. It could be on any topic from the food eaten this morning to national issues. The important thing is that it is one's personal take on the issue.
And the winners are:
Blog: Atheista
Single Post: Personal: Out of school, part 1: Forks
The Best Blog Design award will be given to the blogger who made best use of design elements and principles on his or her blog. Only blogs with customized or modified themes are eligible for this award.
And the winner is:
Best OFW Blog
This award gives honor to the best blog authored by an Overseas Filipino Worker (OFW).
And the winner is:
Best Free Custom Theme
This award gives recognition to the best free and original blog theme released for public use, made by a Filipino designer/developer.
And the winner is:
Best Blog Plugin/Extension
Similar to the Best Free Custom Theme award, this award aims to recognize the efforts of the best Filipino-made plugin/extension out in the public.
And the winner is:
Best Network Blogger
This award gives honor to the Network Blogger that best exemplifies professionalism and dedication to his work. A Network Blogger refers to a person who blogs for a Blog Network.
And the winner is:
Bloggers's Choice Award
Also informally known as the People's Choice Award. This goes to the blog that is nominated and gets the most number of votes. Its effectiveness as a blog is in its inherent popularity that translates into an overwhelming number of unique votes. The voting system for this category will be defined by the Philippine Blog Awards.
And the winner is:
Sponsor Awards
San Miguel Beer's Best Oktoberfest 120 Post
And the winner is:
Level Up!'s Gaming Blog Award Finalists
And the winner is:
Nokia's: Kaleidoscope of Connections Award
And the winners are:
Kaleidoscope Trip
Messages With an Impact
Connecting People With a Push of the Button
Geiser Maclang Special Award
And the winner is:
Blog Bank's Blogger, Not the Blog Award
And the winner is:
Flippish Award
And the winner is:
(From The Jester in Exile)
Congratulations to the winners!
So many people to be thankful to…the awesome volunteers and organizers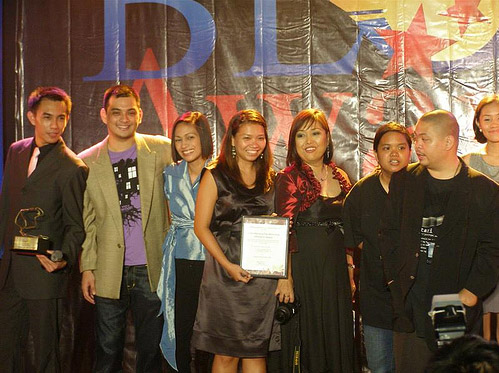 (photo from Azrael)
like Jayvee, Juned, Gail, Jun and most of all
My husband…

Thanks to my husband for putting up with my late night meetings.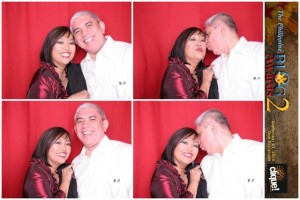 Press Release
Philippine Star, page 2 Lifestyle Gadgets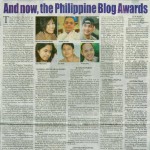 Livestreaming Video from Azrael
The 2008 Philippine Blog Awards is sponsored by:
Co-Presentors
Level Up! Games
San Miguel Corporation
Nokia
Blog Bank
Smart Communications
Josiah's Catering
Toshiba
Geiser Maclang
San Miguel Corporation

Gold Sponsors
Rsun My Technology Store
Yahoo
2go
Belo Medical Group
XFM 92.3
Buddy Gancencia Reality TV
Ultravision Photo and Video
Click Booth
Aloha Board Sports
Sheero Media Solutions
YourPinoyBroker.com
PLDT
Red Box
Coffee Bean and Tea Leaf
Havaianas
California Pizza Kitchen
David and Goliath

Media Partners
Inquirer.Net
ROAM Magazine
flippish tv