Death leaves a heartache no one can heal,
love leaves a memory no one can steal.
~From a headstone in Ireland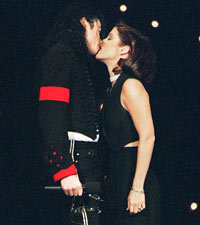 Lisa Marie Presley is obviously in grief. She is devastated. In her heart-wrenching blog entry,
He Knew
, Lisa is gutted and feels like she could have done more for her ex-husband, Michael Jackson.
14 years later I am sitting here watching on the news an ambulance leaves the driveway of his home, the big gates, the crowds outside the gates, the coverage, the crowds outside the hospital, the Cause of death and what may have led up to it and the memory of this conversation hit me, as did the unstoppable tears.

A predicted ending by him, by loved ones and by me, but what I didn't predict was how much it was going to hurt when it finally happened.

The person I failed to help is being transferred right now to the LA County Coroners office for his Autopsy.

All of my indifference and detachment that I worked so hard to achieve over the years has just gone into the bowels of hell and right now I am gutted.

I am going to say now what I have never said before because I want the truth out there for once.

Our relationship was not "a sham" as is being reported in the press. It was an unusual relationship yes, where two unusual people who did not live or know a "Normal life" found a connection, perhaps with some suspect timing on his part. Nonetheless, I do believe he loved me as much as he could love anyone and I loved him very much.

I wanted to "save him" I wanted to save him from the inevitable which is what has just happened.

His family and his loved ones also wanted to save him from this as well but didn't know how and this was 14 years ago. We all worried that this would be the outcome then.

At that time, In trying to save him, I almost lost myself.