Elections are a good deal like marriages, there's no accounting for anyone's taste. Every time we see a bridegroom we wonder why she ever picked him, and it's the same with Public Officials. Will Rogers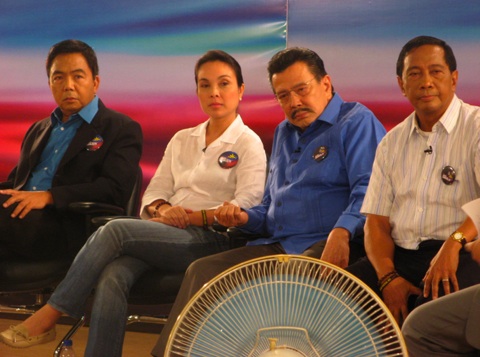 Politics again! I know, I know…I veered way too much from my usual programming mode in this blog. It's just that the current political situation in our country merits my attention. Don't you think that the future of our children lies in the politicians that rule our country? I am not much of an opinion maker when it comes to politics and the only way to be informed is to actually be there and feel the pulse of these politicians. I missed the ANC Forum held last May 11 at the Ateneo de Manila Campus and I made sure I didn't miss the second leg today held at the UP School of Economics. Sen. Francis Escudero, Sen. Richard Gordon, Sen Manuel Roxas II, Gov. Ed Panlilio and Sec. Gilberto Teodoro each took the hot seat in the first forum where they responded to a barrage of questions on their stands, issues and competence as public servants.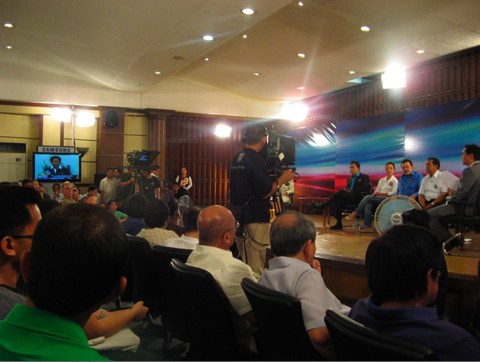 I felt like I was in the hot seat myself as the auditorium's airconditioning system malfunctioned and broke me to sweat as I covered this event. Half of the audience were UP students which should be the case because the youth are the biggest voting populace. Through these forums, they get to see these potential candidates and what they stand for. I expected Senator Panfilo Lacson to be in this event's high-profile lineup but just two hours before the show, he declined to appear since he had no presidential ambitions. Instead, the lineup included Senator Loren Legarda, Mayor Jejomar Binay, MMDA Chair Bayani Fernando and Former President Joseph Estrada.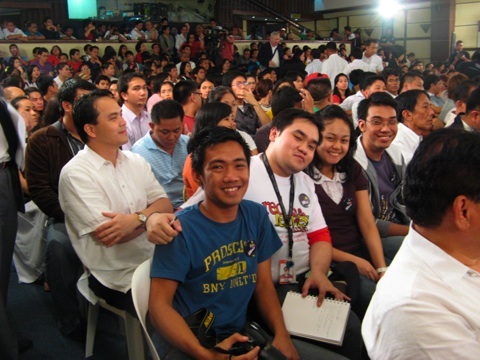 I won't discuss the details of the forum as there are a lot of replays lined up. Replay will be on Saturday at Studio 23 at 6PM then on Sunday (June 7) at 10:15 PM on ABS-CBN Sunday's Best.. Instead, I will rate them based on their confidence, relevance and ability to answer the Q & A portion. (Take note that I am not rating them as the best presidentiable or not.) Of course, the lead for pure entertainment value belongs to Superstar Erap and the most dismal performance goes to Bayani Fernando but that is going ahead of my ratings.
Senator Loren Legarda wins in tonight's forum followed by Mayor Binay, Former President Erap then finally MMDA Chair Bayani Fernando.
Senator Legarda spoke eloquently without beating around the bush, gave clear programs on sustainable economic development, protection of the environment and cultural pride. She laid down her ideas on Agriculture, Education, Health services.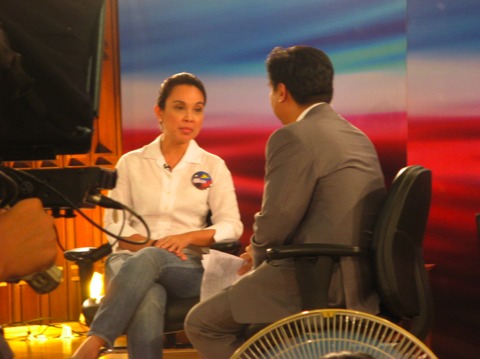 Her motto "Tao muna bago Tayo" speaks of unrelenting passion that she wants to promote in a leader. I am with her when she says that we shouldn't just settle with "pwede na". I am just so sick of mediocrity. On Reproductive Health Bill (RH Bill) which is close to my heart, I am glad she is for informed choices. "We must also do everything we can to bring down maternal mortality". Supporting the RH Bill is a big plus factor for me.
What struck me with Mayor Binay is his constant repetition or bragging of "sa amin sa makati" which became annoying towards the end. I lived in Makati from 1998 till 2007 and witnessed the progress of the city. Of course, it helps that we get taxed heavily in our real estate properties. But Makati's success is Mayor Binay's pride. What he can do to Makati, he can do for the country.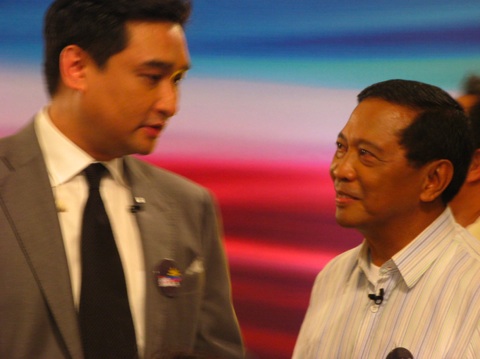 Can he actually get that done on a national level?
His vision remains to be seen when the bigger problems of the country needs to be solved and financial challenges are met.
Erap and Bayani failed miserably to persuade me. Erap parries difficult questions by using "kidding aside".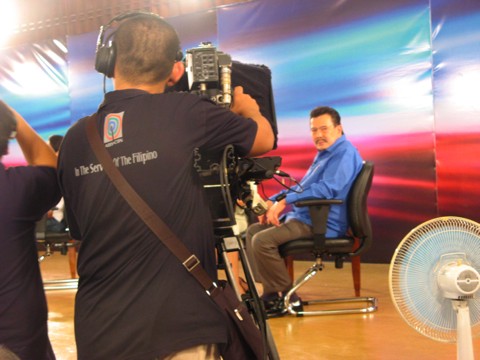 I like his forgiving nature though. (Have we forgiven him too? Not me until he returns the illegal wealth.). He adds that " I have forgiven the Arroyo family. "The weak cannot forgive, but forgiveness is the attribute of the strong." And he yells to the audience "okay ba?". I found him funny most of the time and for that, he is first in my books for entertainment value. Erap's laid-back approach kept everyone entertained in an otherwise boring leadership forum tainted of cliches. Now, I wonder if Erap is even qualified to run as Presidential candidate.
Bayani was all over the place. Can't he differentiate between "I am above the law" and "I abide by the law"? I feel sad for him because he did a lot of Marikina during his term which is now carried over by his wife. I live in the boundaries of Pasig City and Marikina City and I just love how clean and organized the city is. He is just like Binay in many ways. He proudly says that what he can do to Marikina, he can do to the rest of the country.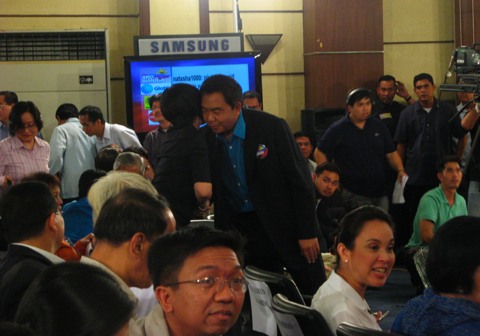 He was a disappointment when he expressed his stand on the Reproductive Health Bill. While the rest agreed on informed or freedom of choice, Bayani Fernando implied that he does not support the RH Bill as he states "I follow the precepts of my church and I am not for modern contraception. I'm for natural ways" This brought slight jeers from the audience. His stand on the RH Bill made me rate him the lowest. His skill matching, 'make local, buy local' and export gave him plus points and advised that we "use the money for business not for consumption".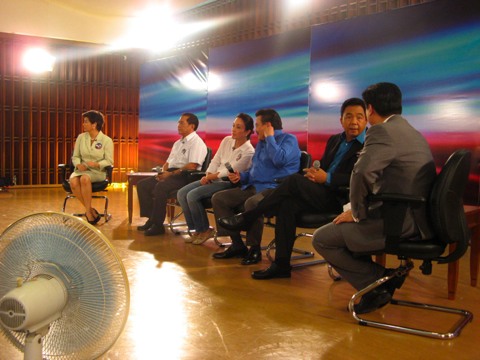 After hearing tonight's forum, I feel that Bayani Fernando and Erap just do not cut it out to be in the top 4 Presidentiables. Maybe as Vice-Presidentiables… until they can come up with a clear-cut program. Though I find Senator Legarda the most eloquent of the lot, her actions need to be shown that she is the more capable leader among the Presidentiables. Walk the talk, as they say.
If you haven't watched the show, catch the replay on Studio 23 on June 6 at 6 p.m. and on ABS-CBN's ""Sunday Best" on June 7 at 10:15 p.m. Let me know what you think.
Related Blogs
Bayani Fernando: ""I obey my Church's teachings." by Dean Jorge Bocobo
Countdown to 2010 The 2nd ANC Leadership Forum at the University of Philippines Diliman – College of Economics by Flow
Erap, Loren, Jojo, And BF Minus Ping At ANC Leadership Forum by Ding Gagelonia
The second ANC Leadership Forum is a partnership between ANC and the UPSE and part of ABS-CBN's ""Boto Mo, iPatrol Mo: Ako ang Simula" campaign, which aims to empower Filipinos, particularly the youth, to make a difference in the national elections next year.
This was aired live on ANC, the ABS-CBN News Channel (SkyCable Channel 27) and will air again on Studio 23 on June 6 at 6 p.m. and on ABS-CBN's ""Sunday Best" on June 7 at 10:15 p.m.
Disclosure on Political Affiliations:
I was invited by Kane Errol Choa, Corporate Communications of ABS CBN to attend the second leg of the "Countdown to 2010: An ANC Leadership Forum". I am not affiliated with Senator Loren Legarda, Former President Joseph Estrada, Makati Mayor Jejomar Binay and MMDA Chair Bayani Fernando. I used to be a student activist in my UP Diliman days. My political views range from conservative to liberal. I don't have plans to run for public office. Meeting with politicians and writing about their programs is part of my current plans for this blog till 2010. If I choose to reveal my personal choices, I will write about it just a few weeks before Elections 2010.