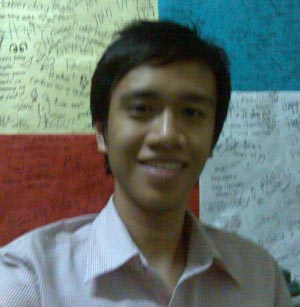 ([tag]Cris Anthony Mendez[/tag] via his friendster account)
For the past days, my rollercoaster emotions got caught up with my own Justice for my son crusade. I will write about this soon. The news on the Hazing eyed in death of graduating UP student outraged and saddened me because it was a senseless death. (more news in here, here and Cris Mendez Dead, Justice for the Boy When?).
I knew the name of the fraternity even before the mainstream media picked it up. How? My husband is a frat man at the same campus and text messages circulated freely that Sigma Rho is suspected to be the fraternity behind the hazing. I asked my husband how could fraternities use this type of violent method to determine their qualified brods. Why can't they just have non-physical initiation rites like implementing worthwhile projects? . My 2 girls overheard my suggestion and laughed "mom, this is a frat. It is not a macho thing to start projects". What baffles me , how come, in this day and age, fraternities still find it necessary? It is barbaric.
Justice might have to wait as the Quezon City Police District Criminal Investigation and Detection Unit (QCPD-CIDU) claimed that Dr. Francisco Cruz who reportedly brought Cris Mendez to the Veterans Memorial Medical Center (VMMC) had gone into hiding.