A list of 13 bonding moments seems more interesting to read and at the same time serves as my contribution to the 107th Edition of Thursday Thirteen Meme. (I know, I know, it's a bit late for Thursday Thirteen but I fell asleep. ) Thanks to SM Hypermarket and Aileen Apolo, the bloggers party brought about this wonderful opportunity to get to know the bloggers we only read in our Google Reader or during blog-hopping.
Here are a few of the bonding moments:
1. Lauren showing off an all original and gorgeous WordPress- Tshirt and myself.

2. Chats, Cookie. Julie, Annmanila, Rowena and I finally meet and having photos taken in a clique booth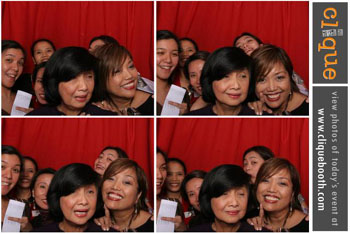 Chats, Cookie, Trixie (Julie's daughter) Julie, Annmanila, Rowena, and Rhodora, Rowena's sister.
3. Bloggers at work while I talk to my hubby over the phone. Talk of multi-tasking!

4. Karlo of pinoyblogero.com, the artist behind my header design.

5. SM Hypermarket executives banter with bloggers as well.

6. Dine, my partner in crime. hehe

7. The wonderful food servers enjoy our company as well.

8. Dinner time is always a happy time.

9. Eating and chatting with blogmates

10. Gail enjoys quality time with her pet dog .

11. Live blogging or twittering for the sake of those who couldn't attend the party.

12. Standing on your feet all night checks your ability to endure the stress on your knees.

13. And lastly, being with my husband and enjoying his prize.


My husband won a DVD player as one of the runner-up of the SM Hypermarket Writing Contest. His entry, A Shopping Adventure at SM Hypermarket didn't make it for the grand prize , tickets for 2 to Malaysia. Just the same, the DVD player might replace our old one.