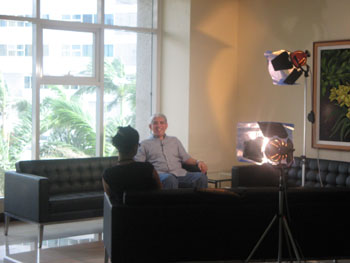 It's my husband's turn to be featured on TV . For many years after my son's death, my husband was inconsolable often in a depressed mode. In our "modern day" society it is especially difficult for fathers to grieve openly, caught in a catch 22 of how to express the deep pain they are experiencing. Men don't cry, men do not emote, men do not hug (maybe at the funeral) men don't go to support groups, men don't call in sick because they are screaming inside, They are the man of the family. Fathers are the fix it guys, the protector, the strength and the rock the family needs for support. More often than not, people will ask a bereaved father "how is your wife doing? This must be extremely hard for her".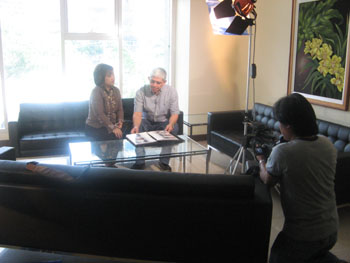 My husband researched and scoured for support groups in the year 2000. There were no workshops or support groups in the country that catered to bereaved parents. I was too busy wallowing in my pain to be of help to my spouse. Sure, there was a grief therapist but it wasn't enough. Five years later, the Compassionate Friends which we co-founded with Cathy, Alma and our spouses started the journey towards a positive resolution of his grief. The cloud of doom seemed to lift. He smiled more. His eyes showed a tiny spark of hope. I discovered one reason that helped my husband out of the depth of despair. It is compassion for others. It is giving that we receive and in healing that we are healed. His positive disposition lifted even more as we attended GRIEFSHARE, a ministry started by Cathy and Hector Guballa. GRIEFSHARE accelerated my husband's healing and recovery through the biblical approach, the psychology of Grief and group supprt. Even if we finished the 13 sessions of the first module, we returned for the second module to help out Cathy and Hector in group facilitation. Butch will share his GRIEFSHARE experience on the 700 Club, QTV Channel 11 at 11:30 PM Thursday, August 23 along with Hector.
I am truly grateful for GRIEFSHARE because my husband realized that God whom he was bitter with for years is the only one who can pull him out of the darkness that is grief. If you know of someone, or you are someone who has lost a loved one through death, please join GRIEFSHARE and begin the journey towards healing and recovery. Starting September 1, GRIEFSHARE will meet every Saturday afternoon from 2-5PM at the Greenhills Christian Fellowship, Ruby Corner Garnet Streets, Ortigas Center, Pasig . It's FREE. (Email me for more details)
Griefshare is a special seminar and support group for people grieving the loss of someone close. If you've lost a spouse, child, family member or friend, you've probably found that there are not many people who understand the depth of what you feel. Griefshare is sponsored by people who understand what you are experiencing and want to offer you comfort and encouragement during a very difficult time.
Read more on GriefShare.
———–

Speaking of my husband, shop along with him as he writes about his Shopping Adventure at SM Hypermarket, our entry to the SM Hypermarket Writing Contest. Grocery Shopping is a Sunday routine that Butch enjoys . I get really bored because it takes him almost 2 hours to get done. View our Shopping Adventure entry