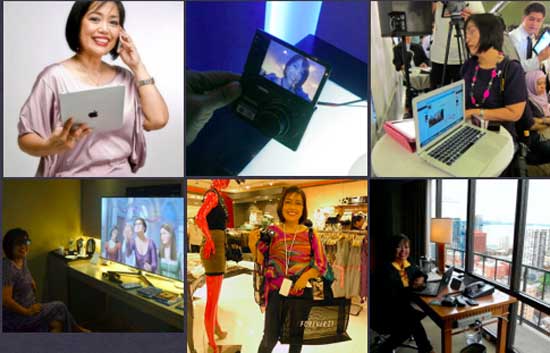 I like looking back at the past , especially on my work as a blogger and citizen advocate and see what needs improvement in 2015. It drives me to formulate goals for 2015 and beyond. The year 2014 started out with expanding income opportunities through a partnership with my dear friend, Jane T. Uymatiao. We didn't have a name at first and it was only in the middle part of the year that we decided on Prep2Prime Digital to encompass our experience in parenting and social media. We have a long way to go but it is a good start and 2015 will see us expand to more brands , schools , organizations and private workshops.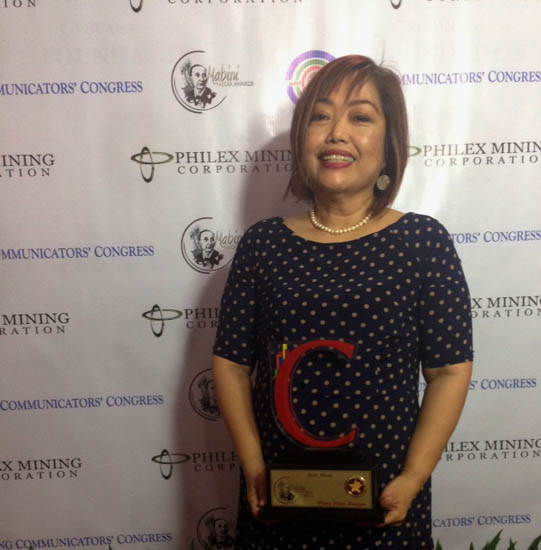 My life as a mom blogger will continue on, of course. It will be my 8th year. Sorry for tooting my horns. In 2014, I was honored to receive two awards in recognition for my advocacy as "momblogger" . Such recognition affirms my motivation  as a mom blogger, one who advocates constructive engagement in issues on family and society. I hope the brands I want to work with , look at me as a socially conscious mom blogger more than a political blogger . I am a mother who is concerned for the future of our country, the future of our children and their community. Whatever social change we fight for redounds to benefit of  corporations as well.
Moms react differently on specific issues but we all have a common concern : our children's futures unite us. Hope you all stay with me this 2015 and beyond.
But first, this is how my year 2014 went:
December 12, 2014
Recognition at the #SINAG Financial Literacy Digital Journalism Awards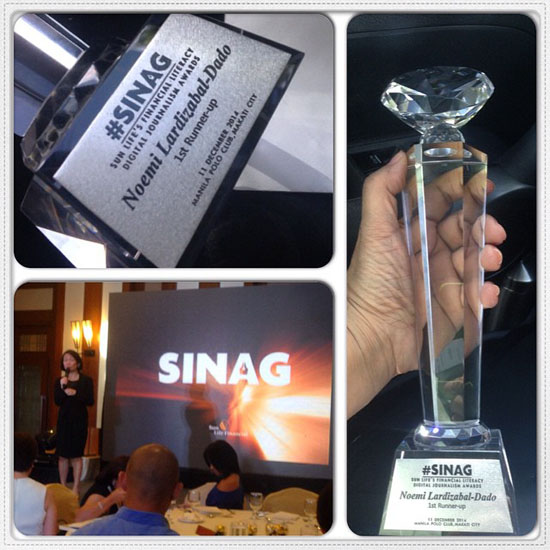 Received first runner up of the #SINAG Financial Literacy Digital Journalism Awards held December 11 at the Manila Polo Club. The #SINAG Financial Literacy Digital Journalism Awards is Sunlife's way to enjoin online influencers to encourage Filipinos to become more financially prepared and break free from ignorance, worry, debt and financial dependency. When I was invited to submit this blog, I didn't think I had enough posts in 2014 to be considered. I only wrote three posts for the year: Money management tips for the family, Affirmations of financial success and Making a choice for a brighter life.
December 12, 2014
Yearender with PTV 4 Veronica Chronicles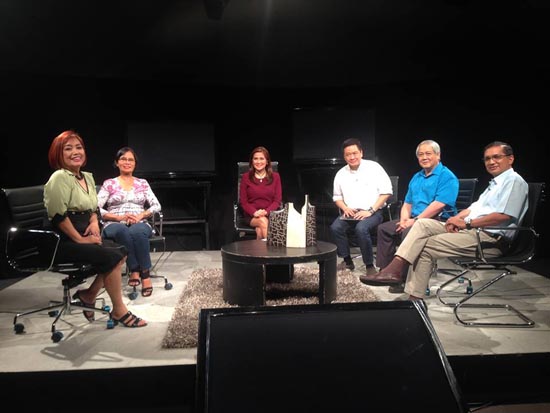 Mga isyung Pulitikal, Ekonomiya, mga Kalamidad at ang ating Pagbangon, at ang mga nag-Trending sa taong 2014. This was the question tackled in the Veronica Chronicles. Shown on December 15 at the People's Television.
November 2014
Social media: Boon or bane?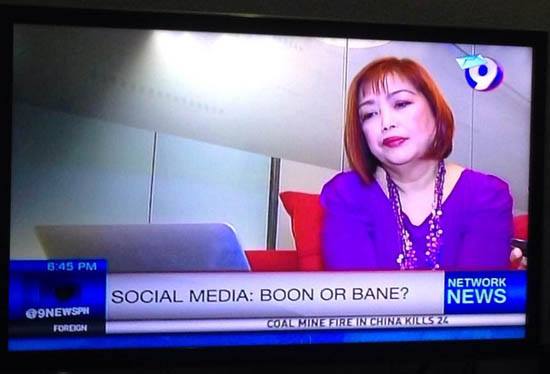 A feature story on social media at 9 News TV or CNN Philippines
November 27, 2014
The future of Enterprise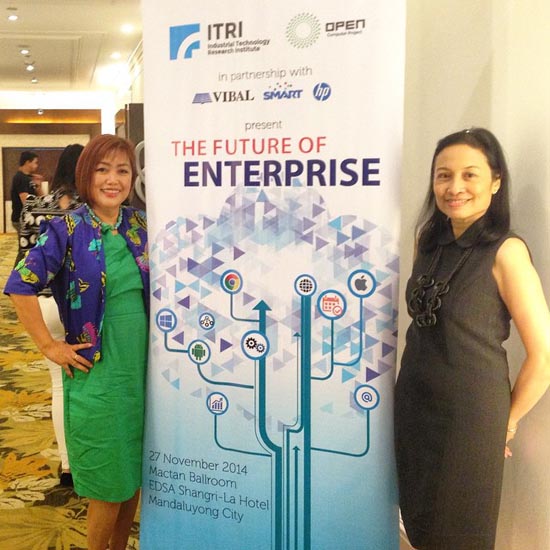 #FutureEnterprisePH on mobility and cloud computing using the hashtag. Jane and I were moderators.
November 24, 2014
Blog Watch turns 5 years old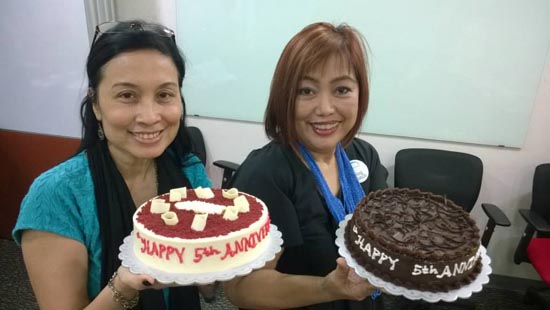 Blog Watch, co-founded by many bloggers, turned five years old. I didn't realize it has been that long. Despite limited funding, we are able to collaborate with fellow citizen advocates . We partnered with Project Agos, and Juan Vote community and help out with the Scrap Pork Network .
Our fellow advocate, Tonyo Cruz, shared some 5 important things about BlogWatch and its importance to the bloggers and the blogging community.
October 27, 2014
#connectYourRights: two day of the "Advocacy Training Workshop on Internet Rights" sponsored by the Foundation of Media Alternatives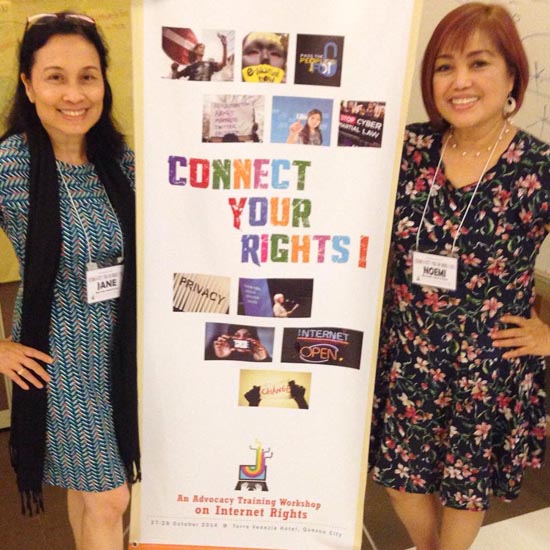 September 23, 2014
4M Jakarta Forum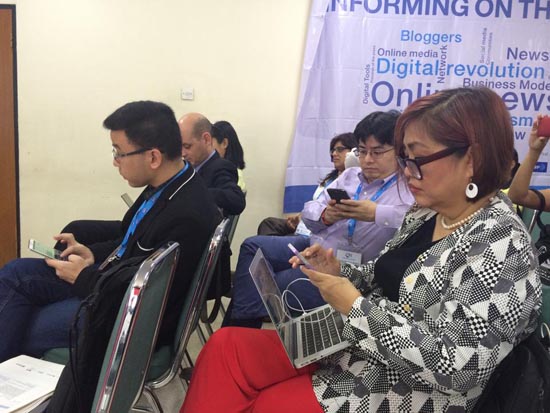 The 4M Jakarta Forum brought together more than 100 professionals from 10 ASEAN countries and Europe in order to discuss the region trends, limitations and possibilities. Happy to be part of it along with Rosario Juan, Tonyo Cruz and Jonji Gonzales
September 18, 2014
Four days PCIJ training – seminar on "Governance by the numbers : Investigative Reporting & Numeracy"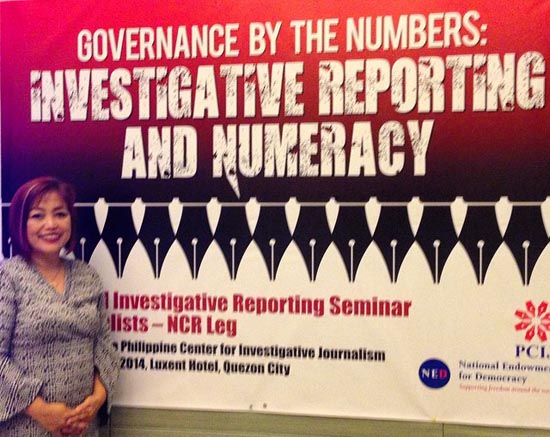 September 14, 2014
How safe are our children ?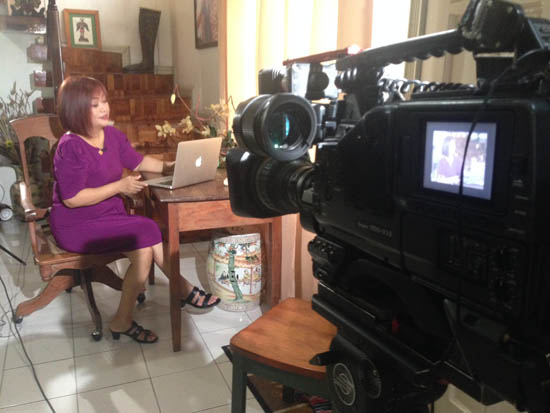 I was in Europe when I first saw a friend (@unlawyer) tweet on "People with guns in EDSA". This happened at 2:45 PM on September 1. In Germany, that's around 8:45 AM but I saw the tweet around 10:45 AM after I cooked lunch. I am not the only one who caused the original photo to get viral. With the help of netizens and traditional media, the tweet became national news.
August 12, 2014
#StandUpSignUpvsPork on August 25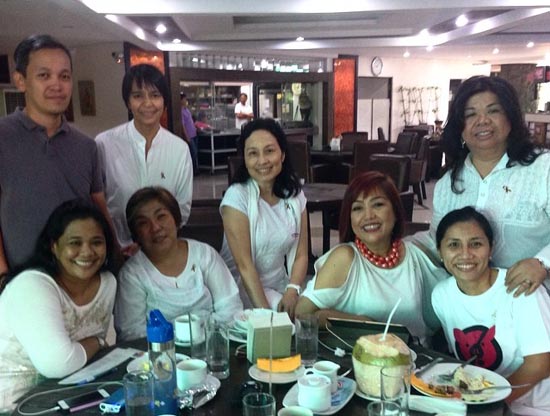 The pork is alive and kicking. The only way to scrap the pork totally is to undertake a People's Initiative against the pork barrel. I was not around on August 25 but I fully supported the " Sign the People 's Initiative vs All Pork" which was held at the kalabaw area, Luneta during the first anniversary of the Million People March.
July 21, 2014
I am one of the signatories of an impeachment complaint vs. Pres Aquino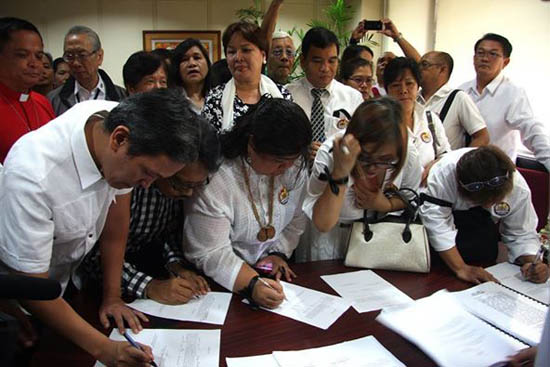 Photo via Kodao Productions

And so, I dedicate the filing of the impeachment complaint to my nephew and the young ones who will one day become the taxpayers of the Philippines.  "

For putting himself above the Supreme Court and the Filipino People, I am attaching my signature to the Impeachment complaint of Benigno Simeon Cojuanco Aquino III as President of the Republic of the Philippines.

July 1, 2014
Having a virtual office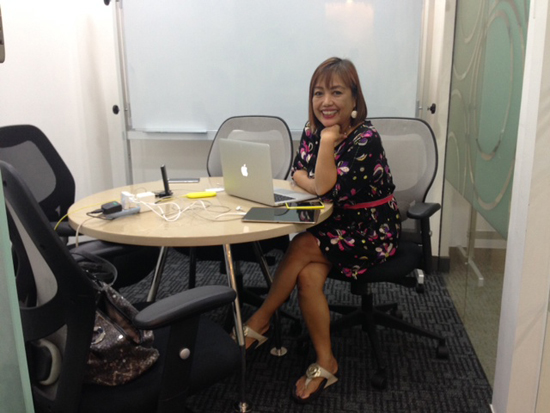 A business needs a small office outside the home so I go a virtual office at voffice.com.ph . Having a virtual office (check here for more information) is so convenient. vOffice in short for Virtual Office, gives you everything you need to efficiently run your business less the cost of maintaining a physical office. It gives you a prestigious business address, telephone & fax number, professional receptionist to answer your call, working space, full equipped meeting facilities, on-demand secretary and more. I got their Platinum plan.
June 28, 2014
Panel on evolution of media on Social Media day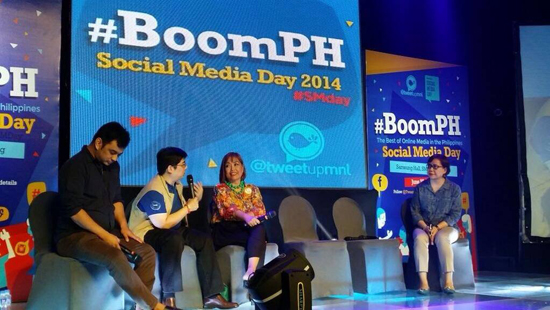 May 8, 2014
Hey Mom! portal : an online sisterhood for moms
I am quite honored to be selected as one of the mom contributors for Unilab's Hey Mom! portal. Most mom-oriented brands prefer the younger moms to engage with their products or services. I believe I have a lot to share about parenting and am grateful for being given this opportunity to share these stories outside my blog. Aside from myself, former international model and VJ Amanda Griffin Jacob is one of the celebrity contributors. Her projects revolve around motherhood which has proven to be Amanda's passion. Actress Mylene Dizon is another contributor as a single and playful mom.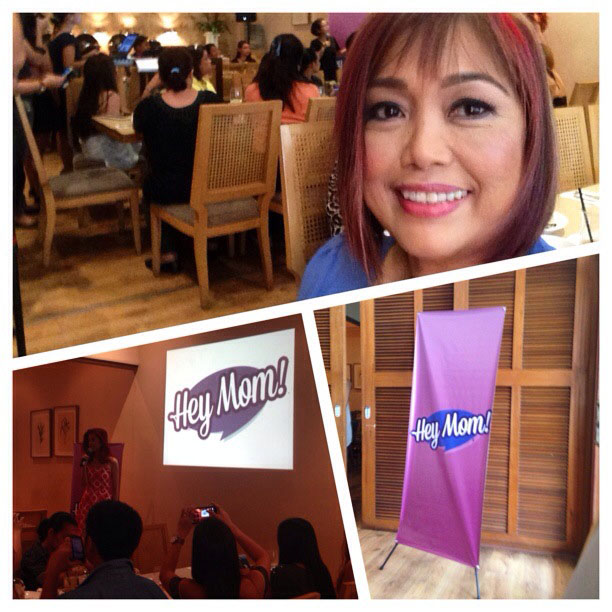 Unilab prepared this very special gift for moms just in time for Mothers' Day—an online community made by Filipino mothers for Filipino mothers. Hey Mom! is an online portal specifically designed to be a resource for moms to access and exchange relevant information that will help in their everyday parenting tasks.
April 29, 2014

1st Future of Media Conference #futuremediaph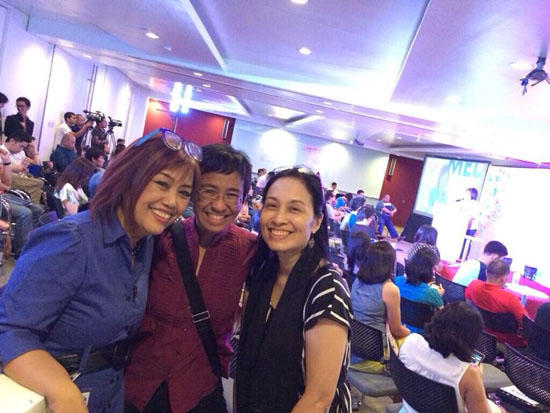 My friend , Jane Uymatiao and I helped organize the 1st Future of Media together with The Philippine Online Chronicles, the Vibal Foundation of the Vibal Group . It was such a huge success. The possibilities to achieve change through media and communication is limitless. The power of citizen media will increase through digital applications (apps), more collaboration with netizens and traditional media as well as the support of full-service agencies, digital marketing organizations, and foundations. The "Internet has opened up spaces for grassroots movements to emerge and seek political and social empowerment through the Web."
April 2014
Bloggers as New Media Personalities (Carlo Ople and Noemi Lardizabal Dado)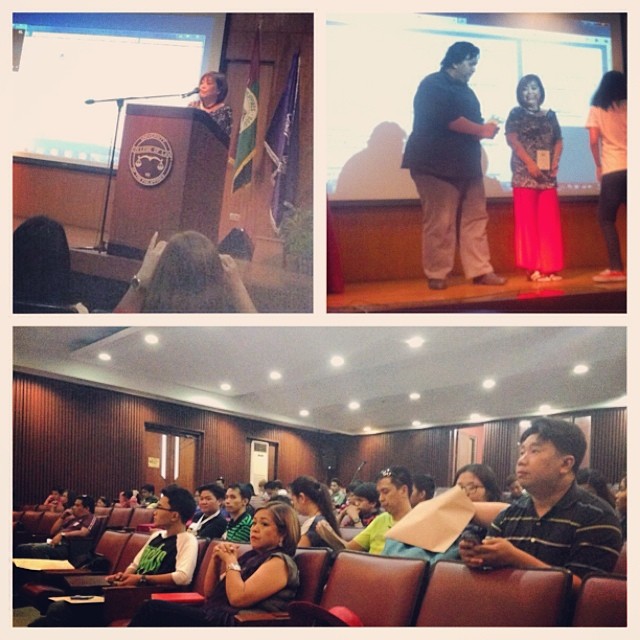 I remember attending iBlog 2 in 2006, two months after I started this blog. iBlog has a soft spot for me. This was where I met the popular bloggers like Abe Olandres and Manolo Quezon . This time around, I talked about how I evolved as momblogger, advocating for social change. I also talked on "What is the future of blogging?" Here is the video introduction of talk:
February 13, 2014
1st PUP Mabini Media Awards: Best Blog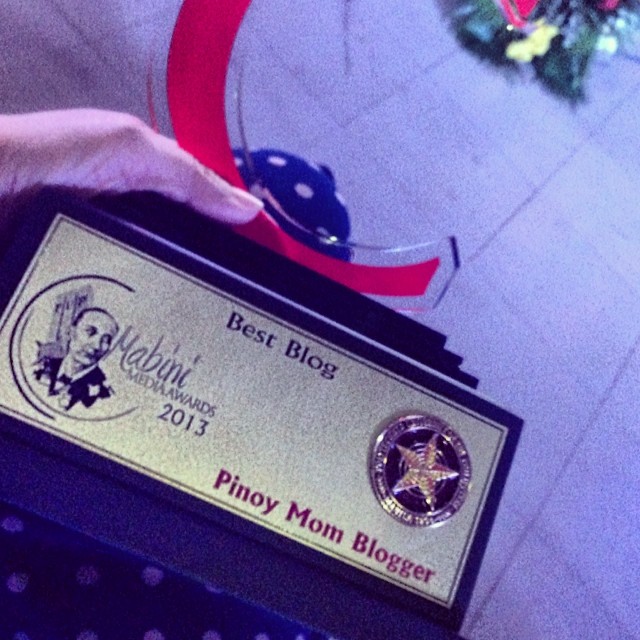 I am grateful to the PUP students for recognizing my work on social media. My role as mom blogger is to nuture not only my family but the community so that the future citizens will have a better future. This fourth award is such a big honor because I did not have to solicit and ask friends to vote for me (unlike other nominations where popularity voting counts). The last honor given to me was seven years ago as "Winner, Best Website, Blogs Category- 10th Philippine Web Awards- November 23, 2007".
I didn't realize the Awarding ceremonies and the 3rd Young Communicators' Congress would be this huge and grand. I nearly teared as I walked down the aisle because of the awesome music. I recorded my reaction in my Bubbly Audio post.
January 6, 2014
Speaking & Consulting : Social media, Pro-active parenting & Wellness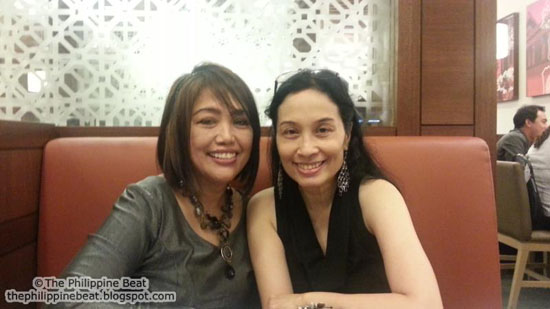 To sustain an advocacy requires time and money that could have otherwise gone to saving up for our senior years. This is where Jane and I talked about developing our income channels yet doing what we are passionate about: advocating for social change. Why not offer our services? Though, Jane and I are invited as social media resource speakers, we don't actively promote ourselves. For 2014, we have moved to a new direction: expanding our services to include social business consultancy, and more topics for social media and pro-active parenting with a new category on "Reinventing One's Life". Jane writes about this new chapter in her life.
—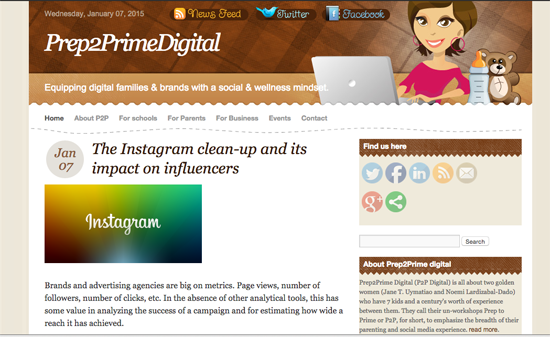 The year 2014 has been fulfilling both as a mom blogger and citizen advocate for Blog Watch. As you can see, my friend Jane is so much a part of it. I started the year 2015 with " Health is wealth " and working on  the website of Prep2PrimeDigital.com . Check it out and see why it is called Prep to Prime or P2P, for short since we emphasize the breadth of our parenting and social media experience.
The year 2015 will take me more into Prep2PrimeDigital.com to complement the activities I do as mom blogger. . When I wonder what is coming, I tell myself the best is coming, the very best in life has to to offer, the best God will send and claim it as mine.
Hope to see you all in our P2P events.