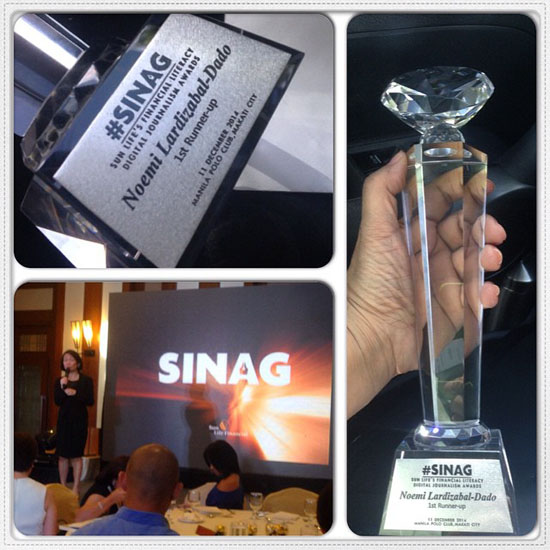 Allow me to toot my horns for a bit and appreciate the recognition in receiving first runner up of the #SINAG Financial Literacy Digital Journalism Awards held December 11 at the Manila Polo Club. The #SINAG Financial Literacy Digital Journalism Awards is Sunlife's way to enjoin online influencers to encourage Filipinos to become more financially prepared and break free from ignorance, worry, debt and financial dependency. When I was invited to submit this blog, I didn't think I had enough posts in 2014 to be considered. I only wrote three posts for the year: Money management tips for the family, Affirmations of financial success and Making a choice for a brighter life.
My family is no stranger to financial challenges. If there is one thing I often remind my children, it is "no matter the state of our financial situation, we need to implement some sort of money management or else all that money will be gone in an instant." I'd like to think my children have managed their finances well. At least they are financially independent and living on their own. I am so proud of them. It is my belief that a parent should prepare their children to live on their own. I lost my mother when I was a teenager so I wanted my daughters to have a mindset of supporting themselves without me. Of course, giving gifts and a little shopping for them are just perks and me, being a mommy. I miss being a mom of little kids. I know I should have taught them more such as being entrepreneurial and starting a business of their own.
This recognition reminds me to write more about money management tips or financial literacy. I actually wrote a lot in the past years but it is now buried deep in the archives.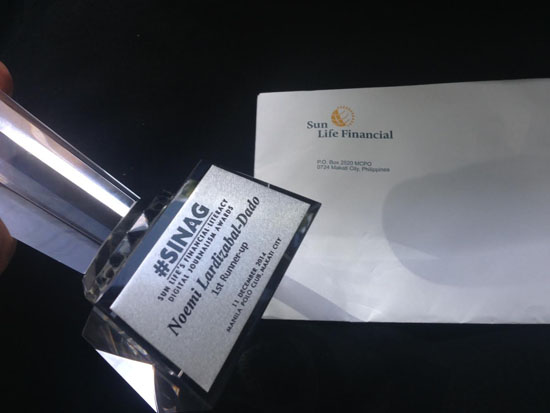 .
I am thankful for Sun Life for this recognition. Incidentally , I invested in Sun Life Financial in 2011 because one of the editors in the Philippine Online Chronicles was Kendrick Chua who was very persuasive with his pitch, to place some of my savings with them.
If there is anything I can share, it is that preparing for a financially secure future requires taking action today:
1.Increase your cash flow;
2. Reduce or eliminate debt;
3. Take baby steps in savings and investing;
4. Review your finances periodically;
5. Communicate with your family.