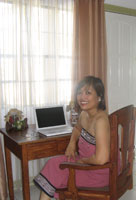 I'm preparing for the New Year celebration tonight. While preparing for our noche buena, Butch and I reflected on this year and the 2007 goals we achieved or did not achieve. I've learned to be grateful for the positive and negative experiences. They made me a better blogger and person. For everything that happened to me as a blogger this year, there is a reason for which I am grateful. I will list them all but will not mention the specifics of the negative experience.
1. I received three awards for my blog this year.
The truth is I believe other blogs are more deserving than mine. Despite that nagging thought, I accept the judges' perception and decision with heartfelt gratitude.