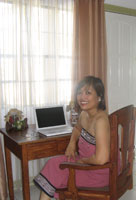 I'm preparing for the New Year celebration tonight. While preparing for our noche buena, Butch and I reflected on this year and the 2007 goals we achieved or did not achieve. I've learned to be grateful for the positive and negative experiences. They made me a better blogger and person. For everything that happened to me as a blogger this year, there is a reason for which I am grateful. I will list them all but will not mention the specifics of the negative experience.
1. I received three awards for my blog this year.
The truth is I believe other blogs are more deserving than mine. Despite that nagging thought, I accept the judges' perception and decision with heartfelt gratitude.
2. TV appearance in Mom Works together with Cathy and Annamanila to show other mothers the benefits of blogging
3. Featured in Yehey's Her Life as A Blogger, Lifestyle Inquirer's Mother Bloggers, Sunday Inquirer Magazine Catching the Blog.
3. Resource Speaker in Digital Filipino's Blogging and Social Networking Forum for personal blogs and iBlog 3 Personal Blogging Success.
4. The risk of writing controversial entries can earn you the ire of certain bloggers who have different opinions than yours. Funny thing is the subject of this entry and this didn't raise much of a fuss. The most valuable lesson I learned from these two entries is to IGNORE their ire . Don't comment back. Also, some can't believe you were really sincere in making amends. What to do? IGNORE, ignore, ignore till they tire. End of controversy, right?
I've already let go of the past but it's worth mentioning because it drove me to be a better person. It taught me to avoid negative and bitchy people and be around fun-loving, positive-minded friends. It also taught most bloggers a lesson that we agree to disagree. Most bloggers are now able to handle arguments in a reasonable manner without bursting an artery.
5. Got into twittering but I had to lock my Twitter. Twittering is an avenue for ranting or chatting with followers. It's not meant for those who are not your followers. So if you rant a lot, lock that twitter because there are stalkers out there who collect your rants and might throw it to your face one day.
6. As I entered into more New Media Events, I got introduced to another world of publishing. Of course, a few questioned my ethics and "reputation" as a blogger. First things first. I do not make a living by attending new media events. I happen to have my own webhosting and real estate business other than blogging, you know. It's hard to believe but new media events pave the way to generate new content for my blogs because I am sometimes lazy to go out of the house. Second, I love meeting people. Really? Oh and I don't have to prove that by taking photos just to be seen with celebrities or for link-love exchange. To each their own, right? So keep those malicious thoughts in check and learn to mind your own business.
7. The countless blogger events and parties that brought new friendships. I don't know if I can name all of them but the Taste Asia, Blog Parteeh, the Philippine Blog Awards, Meeting Shai Coggins are just a few of these meet-ups.
I get a kick out of mingling with young bloggers. It means I get to babble endlessly about techie topics which I can never really discuss with my husband or non-blogger friends. Meet-ups and parties with Dine, Annamanila, Jane, Chats, Cookie, Rowena, Salen, Rachel , Lynn, Feng, Cess, Julie, Lisaflor and other Pinoy Moms Network moms also forged wonderful friendships.
8. Two new advocacies:
And so that's how my year went as a blogger. Now that 2007 is drawing to a close, I like to look back on the year that was and try to improve myself in the coming year. The new year always offers all of us a new slate, a chance to improve and to learn new things.
Our past is neither a mistake or an accident. We have been there where we needed to be, with the necessary people. We can embrace our past, with its pain, its mistakes, its glory and even its tragedies. It is uniquely ours. It was intended just for us.
Today, I am right where I need to be. My present circumstances are exactly as they need to be—for now.
How was your life as a blogger this year for you?
And to greet the new year, here are two youtube videos of last year's fireworks:
Finale of the World Pyro Olympics from the United Kingdom

and Firecrackers' explosion by neighbors in front of our house