Warning: Not for the Grinch or those suffering the Holiday Blues. This is dedicated to Aileen's Paskong Pinoy compilation.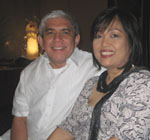 If you have read our love story, you would know that this is our 30th Christmas together of which seven years were spent physically apart from each other. Those seven Christmases were spent with my dad and siblings in Cebu. You can imagine what it was like for a lovestruck couple like us who had no means of communication during the two week break. Sure, there was the expensive long distance calls which needed an operator to get a connection. Suffice it to say that all he could manage to blurt out was Merry Christmas…how are you?…sige, expensive na. Love you. bye. which reminds me of that Smart commercial over the radio. No lovers' conversation. No time to swoon or babble sweet nothings. Nada.
Lucky for most couples these days, there is email, text messaging, cellphone calls, video chat and what not. I yearned to be with my boyfriend during Christmas day but I knew that my family of origin was my number one priority. The meaning of Christmas is about God's love that He brought Jesus Christ to this world. Christmas is about love , the love and joy of family. I understood that well.
To make up for the physical separation, the 18 year old Butch started this brillant idea of having an annual Christmas dinner date tradition where we celebrated the Christmas message of love. Our love. On our first Christmas date together by the Manila Bay, the hopelessly romantic Butch held my hand and pointed our hands towards the moon as if we were holding the moon together. In the most seductive voice, he whispered to my ears:
don't worry, my love. Even if we are not together on Christmas day, just stare at the moon. Hold it and know that I am holding it too. We are together in spirit. The moon sees us.
Deeply touched and giddy all over, the equally hopelessly romantic me almost cried at his sappiness. He assured me that this separation was only temporary and that we would be spending Christmas for the rest of our lives. Every Christmas day in Cebu for the next 7 years, I strolled outside my home standing there by the garden, blanketed by the twinkling stars trying to hold the moon and knowing that Butch would do the same. (of course, I cannot vouch that he was doing the same.)
We have been married for almost 22 years yet the Christmas Dinner Date tradition still continues every year. Maybe out of habit or sentimental value, I don't really know but Butch holds this tradition so dearly. It is our tradition as a couple. Every year Butch changes the venue.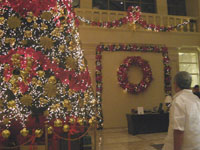 After a lovely dinner at the Manila Peninsula, we strolled around the lobby to inspect the damage of the Trillanes revolt. I cannot imagine that a few weeks earlier, hundreds of bullets were peppered around the elegant hotel lobby and even a massive armored truck smashed into this now wooden temporary wall. The ravages of the failed revolt are nowhere to be found.
Craving for sweets, Butch and I drove to Eastwood City to buy some ice cream at Dairy Queen. Eastwood City is so pretty at night with their Santa Claus corner, twinkling lights with bright hues like red, blue, green, white, silver and gold and a bundle of merriment activities. What a perfect place for couples, families and kids to converge during the holiday breaks. Like little kids, we had a blast playing around their festive Santa corner until we reached the ice cream parlor.
Though our love is constantly celebrated each and every day, we cheered our love through an ice cream cone that lovely night. Now that my father is no longer here, I gaze at the heavens and the moon, wondering if daddy is beaming down upon Butch and me. I miss my daddy more than ever during this Christmas season. I am grateful that while dad was alive, we took the time to be together even if I was married to Butch. The tables were indeed turned when I got married. A Christmas dinner with my dad before the 25th of December made up for that physicial separation.
Sometimes we start new traditions, keep treasured traditions or discard a few that no longer apply. What really matters is we celebrate love in any way we can even if we are far apart from each other. The thing that makes each holiday memorable is the unique spin your own family puts on tradition.
Tradition is more than a right way to do something. The small rituals and customs that are repeated from year to year give us something to anticipate. Traditions form mileposts for our memories and enrich our family time of sharing and loving, true gifts of the season. Traditions make the season rich with love and sharing. Every child needs family traditions, even if they are brand new.
Rejoice in your family traditions or create family traditions if you have none. The memories will last forever.
What is your favorite Christmas or Holiday Tradition?
I would like to take this opportunity to greet all my readers a fun-filled holiday and a blessed Merry Christmas full of peace, love and joy. If you are alone on Christmas day, I am inviting you to my humble home for lunch. I mean it. Drop me an email.