A few days ago, Lauren announced that her interview appeared in the December 2007 issue of Cosmopolitan Magazine, Philippine Edition.
I cringed Ugh. Don't tell me it's about dating escapades? My voice raised a notch higher than usual. Most of Cosmo articles I read in the beauty salon revolve around dating and sex lives with a mishmash of fashion makeovers and token articles. Not that I am a prude, but uh please, sex escapades on cheating boyfriends/girlfriends or one-night stands are best kept private. Is that something to be proud of? Anyway, I digress.
"No mom, it's about my blog".
I heaved a sigh of relief. Not that I was doubting Lauren's integrity but I didn't have much faith in Cosmopolitan's ability to churn out relevant self-help articles for young adult women.
The feature article, Why More Women Blog, is perfect timing for Lauren's 11th year in blogging. I believe it is one of Cosmo's token feature article to tone down the sex-life-themed magazine.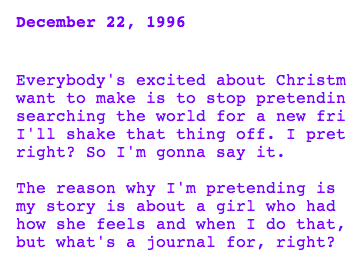 Eleven years ago on December 22, 1996, Lauren wrote her first journal entry. The original entry does not show in worldkids.net anymore but if you're a geek, you can probably figure a way to read the full entry. I cannot remember the webpage address of her old journal sites. I've lost count. In the early 2000's , Lauren, like many domain trendsetters, wanted to own a lot of domains. But just like any fad, she easily got bored with it. Thank goodness, I kept paying for the domain name renewal. During those days, I never imagined that domain names would be a gold mine in the future. I bought/took over her abandoned journal domain sites, converted them to niche blogs where I earn some passive income.
Just a small footnote to a disgruntled reader.
To this sad 35-40 year old blogger who thinks I was the ghost writer of Lauren's entries, I pity you. You scoured thousand and thousand upon entries just to disprove the authorship of Lauren's journal entries. Why waste your time? What should you have done instead? If you know her fifth grade English teacher, go ask him instead. His name is Edwin Eulalia. If you know Myrna Co, my editor before Lauren was born, you will know from her that I suck at creative writing. She laughed when I told her about your accusation. Of course, I was not insulted that she laughed. If ever, Lauren should have been your ghost writer, Myrna adds. She is truly gifted in weaving a story out of her daily life. She started writing at the age of four years old entitled "The Virus" complete with illustrations. I can scan that too. All her handwritten stories and novels are like precious jewels to me kept safe in a treasure chest for her children to read one day.
So why am I mentioning all this? You can doubt all you want but you should know that threats are quite immature and illegal too. And harassment? Come on!
Her grammar may have seemed perfect. Just like any concerned mother, I corrected errors in the subject-verb agreement so she would learn from her mistakes. But never did I tamper the voice of her entries or stories. Not even the sentence structure.
Why did Lauren last this long in the blogging world? It's because she loves to write. Take away the blog and she will still write.
With or without a blog, Lauren will always find ways to express her creativity and hone her writing skills.