Second chances?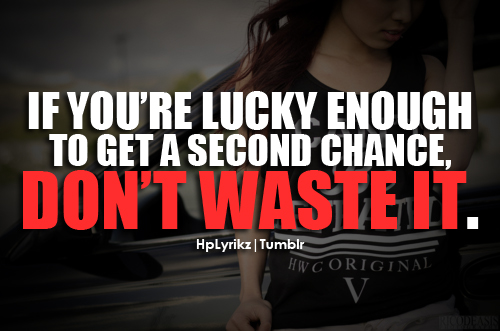 Do you believe that someone who has caused you so much pain deserves a second chance?
Do you believe YOU deserve a second chance?
Over 15 years ago, I packed my bags and left my husband because I thought I wanted to start a new life without him. Grief had overtaken us so much that we were virtually strangers to each other. Never in my wildest dream did I imagine myself with a broken ankle as I stepped inside my new pad. I had no choice but to live with him and work things out. Truly God works in mysterious ways. It was as if God said, " you can't run away from your marriage. Try to fix it. Give it a second chance"
Listen to podcast:

If you think that my husband is the culprit, you're wrong. I am to blame too. It takes two to a marriage. I knew I had to take care of myself first and foremost. I had to give myself a second chance. A second chance to be a more loving wife and mother. A second chance to be more financially independent and a second chance to be a better person.
I believe second chances are possible if….
1. The person who has caused you hurt is willing to make amends and to sit down and compromise.
2. I set boundaries. One can't repeat the same mistake all over again, but at the same time one must be aware that we should also give allowances for recovery to take place.
3. You love yourself. I'd like to believe that "You cannot give what you do not have." I find that I am a better wife, a better mother, a more compassionate friend, after I have spent time nurturing myself.
4. You are open to the positive possibilities of the future instead of limiting the future by today's feelings and circumstances.
5. You forgive. When we hold on to pain, old grudges, bitterness and even hatred, many aspects of our lives suffer. Through forgiveness, you choose to no longer define yourself as a victim.
It's been more than 10 years now.
I lost weight and look so much sexier or so my husband says. My husband is overflowing with love and kisses and I feel so pampered. My children are happier with our new normal. I am financially independent.
I feel good about myself. I feel beautiful.
I want to dance to the music of the Dancing Queen. No kidding!
I continue to be a work in progress.
Yes, I feel loved. I feel blessed.
Only because I gave myself a second chance.
So do you believe everyone deserves a second chance?
Photo via iriefitgirl.blogspot.com