How do I love thee? Let me count the ways.
When my ex-boyfriend swept me off my feet 30 years ago, it happened at the UP sunken garden just before sunset. I screamed in delight as Butch kept twirling me around and around. Put me down now. I wanted it to last forever but a crowd of onlookers oogling at us from a distance brought us back to reality. We had no shame. Truly, madly, deeply in love. We were optimistic that whatever flaws we had could easily be worked out. Such an idealistic thought. A friend told me that the thing I loved most from my boyfriend is the thing that I'd hate about him when I get married.
Is it true?
This conversion chart for dating is meant as a joke but in reality, there is some truth about it.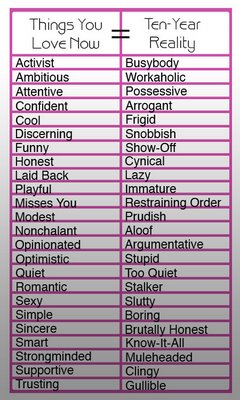 Yes, we had our problems.
More than 20 years later, I never imagined I'd literally break my foot as I tried to run away from our marriage. I guess being swept off my feet in an accident brought me back to the reality that a marriage crisis is never a hopeless case.
I had no choice but to live with him and work things out. Truly God works in mysterious ways. It was as if God said " you can't run away from your marriage. Try to fix it".
Today, I wear the stitches on my right ankle like battle scars with a badge of courage.
Smiles, tears, of all my life! — and, if God choose,
I shall but love thee better after death.