A simple enough pleasure, surely, to have breakfast alone with one's husband, but how seldom married people in the midst of life achieve it. – Anne Morrow Lindbergh
It is a blessed Sunday morning as I take breakfast with my husband. These days, I don't read newspapers unless I want to collect that issue, Our netbooks are with us as we sip our coffee. This time around, I am taking warm calamansi-lemon drink to soothe my sore throat. It is an old folks home remedy that always works.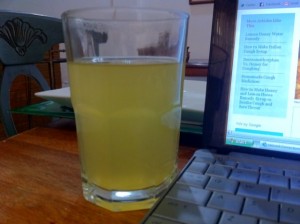 The house seems quieter without my other daughter's booming voice at home. (I will write about this more). Lauren is fast asleep so it is just Butch and me. I am just grateful about today. The quiet moments with my husband at breakfast. Gazing at the two Siamese kitties lounging nearby makes me smile. I think I will be bonding more with my pet cat Missy.
I believe that happiness depends on a leisurely breakfast even if it is just once a week on a Sunday.
Andy Rooney best explains this bit of happiness.
For most of life, nothing wonderful happens. If you don't enjoy getting up and working and finishing your work and sitting down to a meal with family or friends, then the chances are you're not going to be very happy. If someone bases his happiness or unhappiness on major events like a great new job, huge amounts of money, a flawlessly happy marriage or a trip to Paris, that person isn't going to be happy much of the time. If, on the other hand, happiness depends on a good breakfast, flowers in the yard, a drink or a nap, then we are more likely to live with quite a bit of happiness.