The most important political office is that of the private citizen. ~Louis Brandeis
I love my children.
I think of their future.
I hope for a good leader.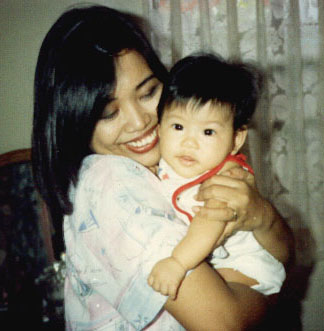 We all want that for our children, right? So listen up…we need to do our share in helping our country change for the better.
Be part of the change for the better by starting with yourself. .It starts with YOU..in choosing candidates that will work for your children's future. Armed with that choice, you need to go out and vote .
But your part does not end in casting your ballot. Be champions of Honest, Orderly and Peaceful Elections by taking action on the 2013 elections. Social media has made it easier for citizens to participate in the electoral process. You can make a difference by being part of the #juanvote network of citizen voters empowered with their social media tools.
As netizens, we have the social media capital and channels to make our votes count, to help educate both candidates and voters, and help expand the coverage of the elections beyond what we see on TV and hear on the radio.
It was in 2010 that Filipino netizens formed #juanvote network to monitor elections online . This year, we are using the same hashtag to report law violations. Why?
We want to keep a close watch on today's elections. The name #juanvote is used because the network calls on citizens to use hi-tech means to expose and hopefully thwart electoral fraud and violence. These elections are very important. We have to make sure that the candidates know that netizens and other citizens want changes and reforms to keep the internet free, to improve and expand internet access, check telco abuses, and make government more transparent and accountable. These issues could be addressed by candidates who have a clear stand on the laws we want repealed or bills we want passed into law.
I call on bloggers and all netizens to tweet using the #juanvote hashtag. Tweet that you have voted. Tweet if you see law violations and problems during the voting,
Take up the challenge to make a difference no matter how small just like Krem- Top's campaign "Change for the better" .
Today May 13, do your share in helping the nation change for the better.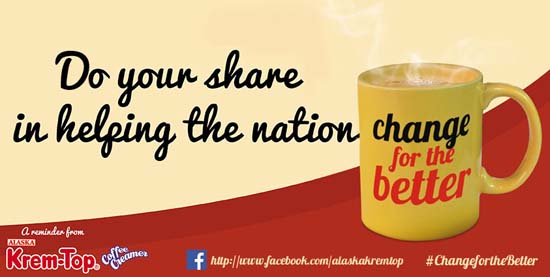 A Moment of Silence or a prayer of Hope for all of you.
—-, let me be the change I want to see
To do with strength and wisdom
All that needs to be done
And become the hope that I can be.
Set me free from my fears and hesitations.
Grant me courage and humility.
Fill me with spirit to face the challenge
And start the change I want to see.
Today, I start the change I want to see.
Even if I'm not the light, I can be the spark.
In faith, service and communion
Let us start the change we want to see,
The change that begins in me