I want to bring out all kinds of things that lie buried deep in my heart. Anne Frank
The aftermath of the Best Friends Forever Reunion left me in a contemplative mood for days. Friends remarked that I was quiet, conservative and feminine in the past so the revelation of "a true confession" caused jaw-dropping looks. At a high school reunion, I laughed when former teachers thought I was Lorna, my elder sister. What a forgettable student I was! I don't blame them. It was true anyway. Looking at myself today, I don't recognize the person I once was. Still, I thought of checking out that forgettable person and affirm the good that is happening in my life today.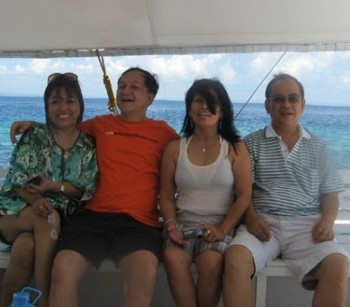 Best Friends Forever Reunion 2009
I unearthed my "baul", a box full of treasured memories like old photos, memorabilia and diaries written since I was 10 years old. During the reunion, I confessed to the ex that I still kept the diary during the years we were together. Horrified, he told me to dispose of it. I shrugged. It was the past, nothing incriminating and everything written was pure and innocent. For some reason, I should have thrown it when I got married. I dumped all the letters, gifts and photos in the trash bin but I kept the diaries. Now I know why I didn't throw the diaries. No, it was not to reminisce the memories of first love and that of my ex-boyfriend now my husband.
I pulled my diaries out from the cobwebs of the musty "baul" and began to leaf through the pages, now yellowed after 34 years. For the next few days, I poured over the poignant memories. I'm not a very profound writer and I scribbled about things I did that day or week with my family, my boyfriend or my groupies. Both things of significance and not. My diary detailed the life of my family when we were still complete. My mom, already sick of breast cancer in 1975 suddenly came alive in the stories I wrote about her. My departed siblings, Oscar and Ruben ,the clowns of the family and my dad sprang to life as I read the "Dear Diary" entries. I felt a tugging in my heart,a deep longing for my departed loved ones as I got transported back to 1975. For one brief moment, images of their smiles and antics kept me in a cheerful mood.