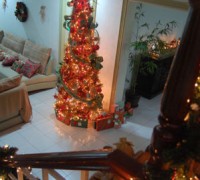 Sparkling and dazzling lights surround around our Christmas tree. Hundreds of tiny lights run along the garlands like waves stretching all the way to the second floor. The girls' bright red and green Christmas stockings hang on the garlands, just waiting to be filled up with yummy candies and goodies on Christmas day. These pretty colored things make me giddy as I recall fond childhood memories. The Christmas celebration is not complete with these twinkling lights adorning my home.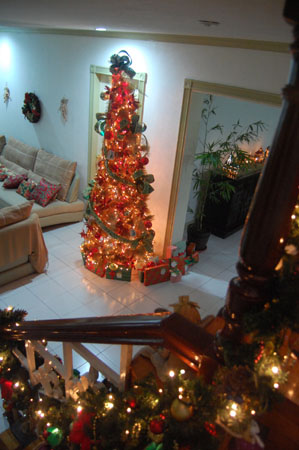 But wait… though I may be dazzled by brilliant lights, I should be mindful of the power cost. I received a Meralco advisory for a November rate change in October. Like any other consumer, I wouldn't want a bill shock so it is great that Meralco gave me a heads up.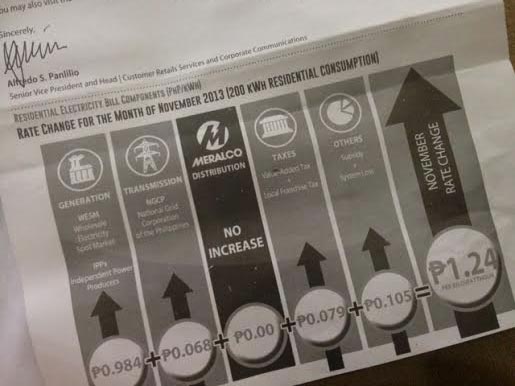 In the advisory, electricity rates are expected to have upward adjustments in November and December 2013 and may possibly carry over to January 2013. This is due to the scheduled maintenance work of some power plants and the Camago-Malampaya natural gas pipelines. The advisory further explained that the scheduled maintenance of the Camago-Malampaya pipeline , from which Sta. Rita and Ilijan power plants obtain their fuel is from November 9 till December 8, 2013. Together these two power plants supply about 50% of the Meralco 's energy requirements. Both will continue running at a limited capacity but will have to use more expensive fuel, as opposed to the cheaper natural gas from the Malampaya pipeline. This also means Meralco will source more power from the Wholesale Electricity Spot Market (WESM). All these are expected to drive up generation charge.
That got me worried about my November bill which I just paid yesterday. When I compared my October and November bill, an estimated 11% increase is shown.
Meralco became even pro-active by meeting with a few mom bloggers. They explained the upward adjustments but they are doing all they can to mitigate the impact. One way is securing a new Power Supply AGreement (PSA) with Therma Mobile Inc. for the supply of additional energy to take effect immediately upon the approval by the Energy Regulation Commission (ERC). As a result, the anticipate upward adjusment are significantly lower than if Meralco had been more dependent on WESM.
Managing Power Consumption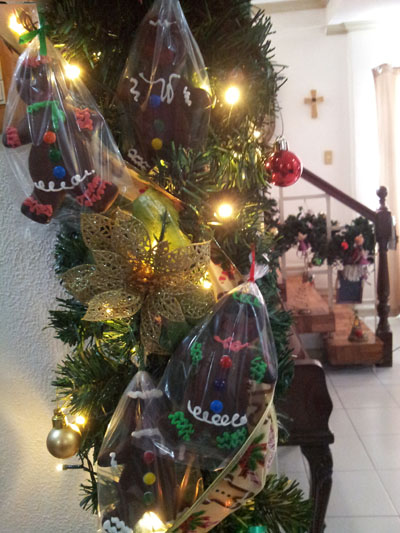 Another way to minimize the rate impact is by reaching out to us on the energy efficiency tips especially when there are more lights being used this Christmas season. This is something within our control and is very do-able.
1. Use LED Christmas lights .
They use 33% less power than regular bulbs and also last much longer.
2. Reduce wattage of your lights from 10 W bulbs to 7 W bulbs for 30% savings.
If you cannot change large Christmas bulbs for your interior and exterior decors, consider reducing its wattage. Switching from a 10W bulb to a 7W bulb saves you as much as 30% on your consumption.
3. Regulate the period your lights are on with a timer.
Set a timer to switch off Christmas lights and prevent them from staying on all day or all night. This can be purchased in most hardware stores.
4. Unplug all devices when not in use.
TVs, DVD/VCD Players, computers, stereos, game consoles still use energy in stand by mode. When not in use, unplug them. Electronic appliances produce heat. Extra heat requires more energy from your air conditioners and increase cooling costs.
5. Use a power board
A power board can supply power to multiple appliances at the same time and allows you also to switch them off using the same switch.
6. Switch off lights when not in use.
Utilize natural light whenever possible.
7. Set the thermostat of your airconditioner at comfortable temperature level ( 25C)
The consumption of airconditioners comprise the bulk of my electricity bill so all of us should take note of this energy tip.
For every one degree increase in thermostat setting, savings may reach up to 5% of total aircon operating cost. Use a timer. Set air conditioner's timer to turn off your unit to reduce operating time.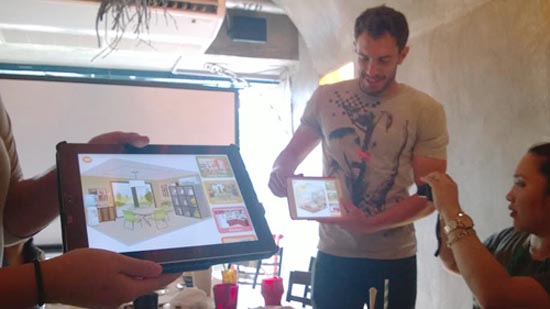 There are more energy efficient tips at meralco.com.ph and even their twitter account @meralco. You can also access Bright Ideas wheh you download the Meralco Virtual Engine (MOVE) app on your phone or tablet. It is so cool because you can have a fun time educating your children and other household members on these energy efficient tips. It also allows me to view my latest electricity bill, the nearest Bayad Centers, the Meralco office directory, and compute my consumption costs on the Appliance calculator.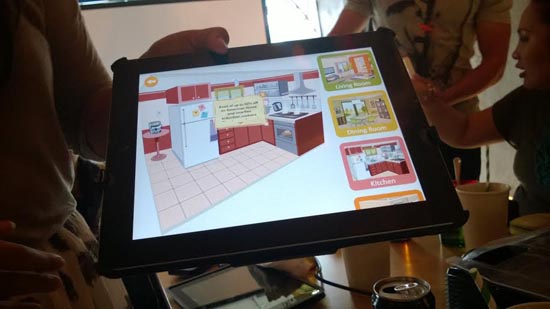 Even without the upward adjustments, energy efficiency is a household objective but it is good to be reminded especially in this season of brightly lit households.