"Doesn't every woman deserve the right to have a safe pregnancy and a baby that's born healthy? I believe this is a very basic human right."
Katya Matanovic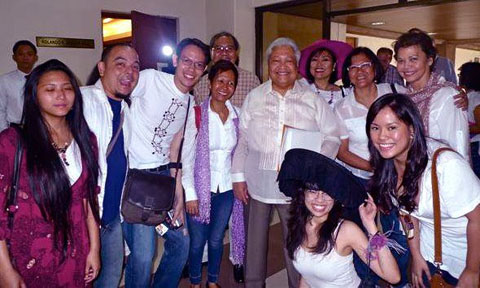 RH advocates at the House of Representatives with Congressman Edcel Lagman. In the photo are Carlos Celdran, Red Tani, Beth Angsioco, Joy Virata, Adrienne Vergara, my daughter and other RH advocates. Photo by Adrienne Vergara.
Lauren and I participated in wednesday's pro-RH rally. Both my daughters are RH advocates too. We were at the rally to make sure there were no delays at the Committee on Appropriations before it went into Plenary where debates, pros and cons are heard, before coming to a vote.
The good news was that the RH Bill passed the committee and will soon be debated in the plenary. A lot of hurdles still face the bill. Your congressman may conveniently be absent and thus, make a quorum impossible. But for now, baby steps until it becomes a law. In the photo you can see our happy faces, full of hope that the RH Bill will become a law.
Read More »Why I support the Reproductive Health Bill