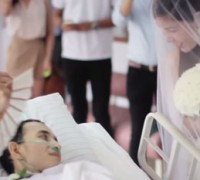 True love never dies, it lives on in the people who believe in it.
Rowden and Leizl planned their wedding date  on July 8, 2014, Rowden's 30th birthday. Together with their adorable 2-year-old daughter, they already had a perfect family and a wedding was just needed to seal their future. Alas, the date had to be moved at an earlier date.
In the youtube channel of Chef Hasset Go,  he explained that "Rowden got diagnosed with stage IV liver cancer in late May. His last request was to marry his one true love. After 12hours of preparations, his dream was fulfilled. Unable to take him outside the hospital, we brought the church to him. It was like a heartbreaking fairytale."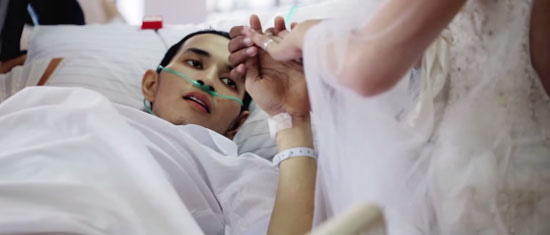 The wedding took place in the Philippine General Hospital with close friends and relatives. As I watched the video, I was hopeful.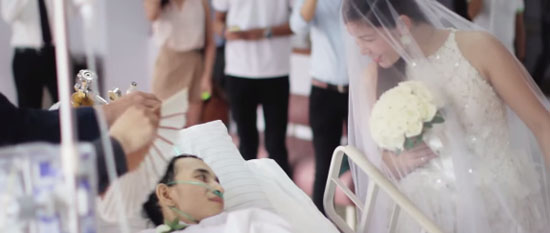 But Rowden Go Pangcoga, who was only 29-years-old, passed away on June 11, 2014, less than 10 hours after their wedding. He is survived by his wife Leizel May, daughter Zakiah Rowzel, mother Lorelei, and brothers Hasset & Hisham.
As I watched the video the second time, the tears could not stop falling. I did not cry when I first saw the video because I was not aware that he would die that soon. Even though cancer struck two of my family members , I can only imagine the pain of his family. There is always hope even when others have given up.
When the reality hits , I can only offer this same prayer that I offered to my brother.
God saw you getting tired,
And a cure was not to be,
So He put his arms around you,
And whispered "Come to Me"
With tearful eyes we watched you suffer,
And saw you fall away.
Although we couldn't bear to lose you,
We could not ask you to stay.
A golden heart stopped beating,
Hardworking hands laid to rest.
God broke our hearts to prove to us,
That He only takes the best.
Then I know that love never dies.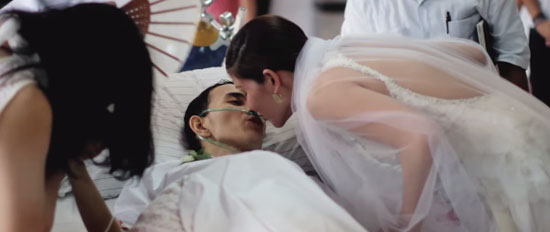 Screencaps from Hasset Go Youtube channel. Some rights reserved.