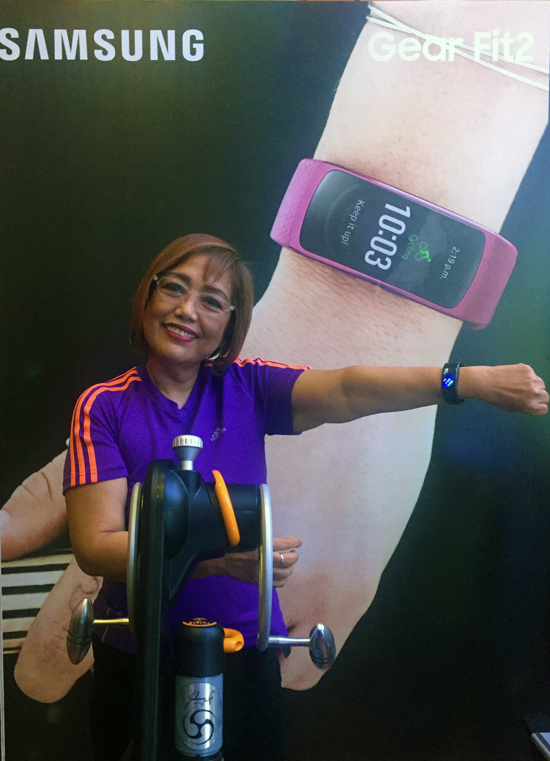 The greatest wealth is health. After all , "it is health that is real wealth and not pieces of gold and silver". The entire Step Diet premise is simple: Walk 10,000 steps a day and trim your portions by a quarter and you will lose weight, simple as that. Move more, eat a little less.
I met those goals so I was excited that Samsung Gear offers a better and more affordable wearable for you to start a fitness regimen.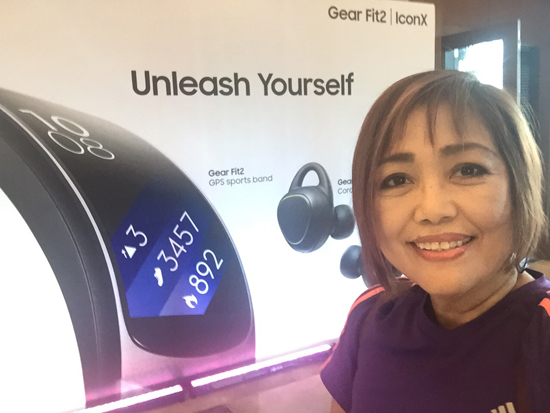 I am sure some of you may have tried working out and you can say it's easier said than done. I know because I have been there. It's already hard enough to set aside ample time and reserve so much energy into staying fit, but it gets even harder when things are holding you back from giving it their best.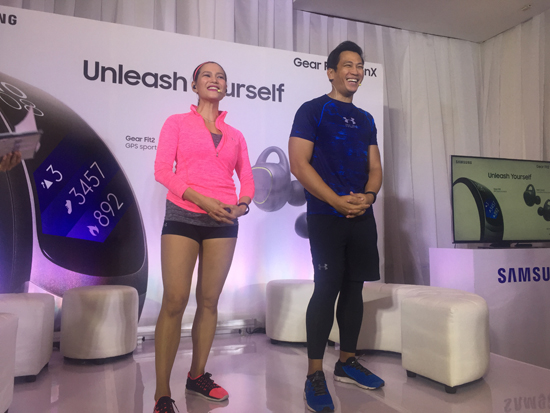 It takes a lot of motivation and inspiration. I love walking with sounds because it moves me to walk faster. Any fitness animal knows the struggle is real when they need to switch songs through their smartphone just to get the right song that keeps them pumped up for their workout, all on top of having limited movement because of earphone cords that always get in the way. Not only that, but anyone who's tried keeping track of their progress know that looking through their smartphone risk tripping, especially when running.
Samsung all-new Gear Fit2 and Gear IconX can help you reach your fitness goals, and  keep pushing for greater performance, too.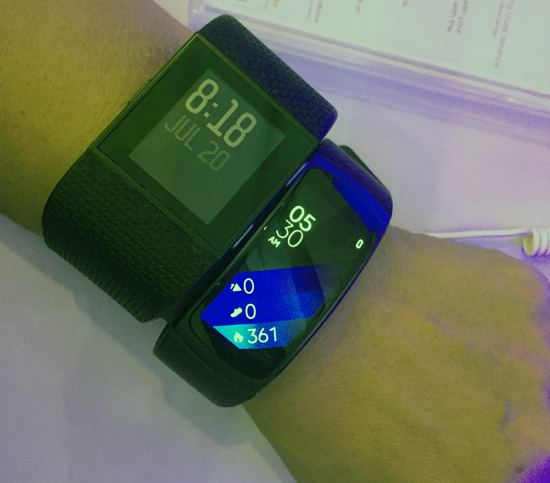 See the all-new Samsung Gear Fit2 beside my Fitbit Surge? Not that I am ditching my FitBit, but you might want to compare wearables.  The Gear Fit2 is a GPS sports band that promises a bulk-free and advanced fitness experience. There lies the difference. The Gear Fit2 looks elegant on my wrist unlike the bulky Fitbit Surge. There's no need to bring around a heavy smartphone for progress tracking because the Gear Fit2 will help keep you motivated to outdo your last fitness record – may it be in terms of length of time, number of reps, or calories burned.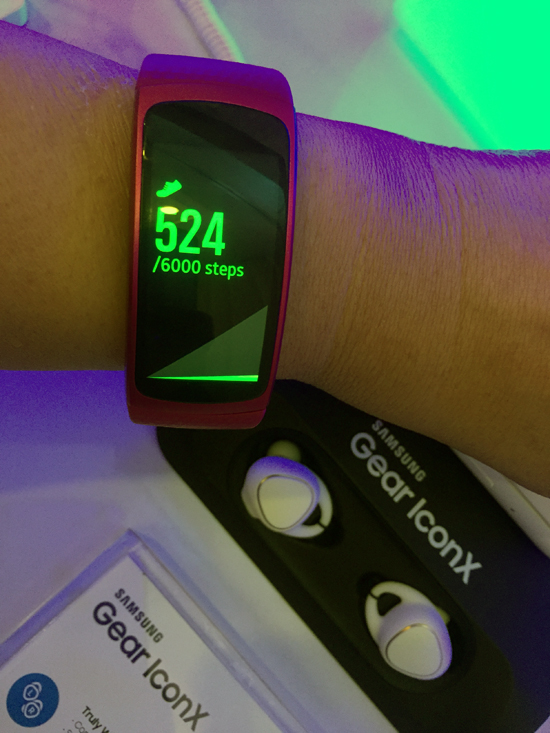 With its stand-alone GPS tracking capabilities, the Gear Fit2 can help fitness animals easily monitor not only location, but also their burned calories, distance, speed, route, time, hours of sleep, and stress levels to keep them fit and healthy.
With its Social Challenge capabilities, the Gear Fit2 also allows fitness animals to challenge one other into doing fitness routines that can help create motivational friendly competition amongst friends, pushing themselves more and outdo their best records.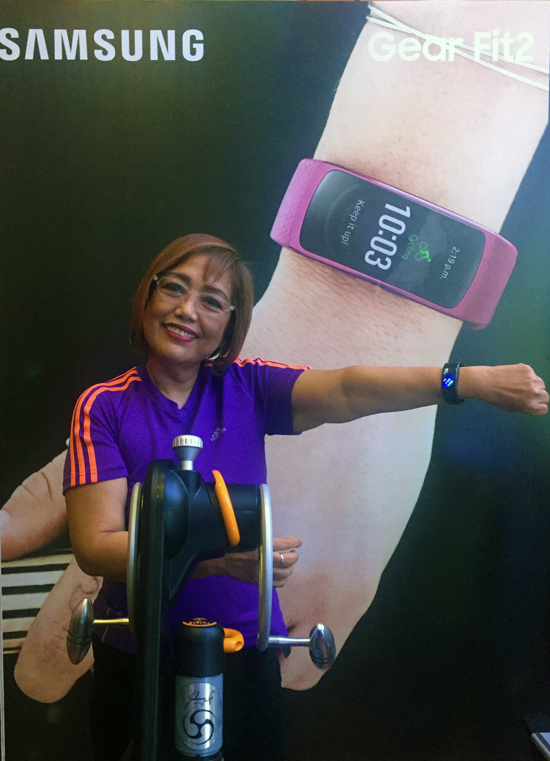 Worried about water or sweat breaking your device? Don't be. The Gear Fit2, with its IP68 rating, is water and dust resistant, all wrapped into a sleek and lightweight band-type design compatible with any style.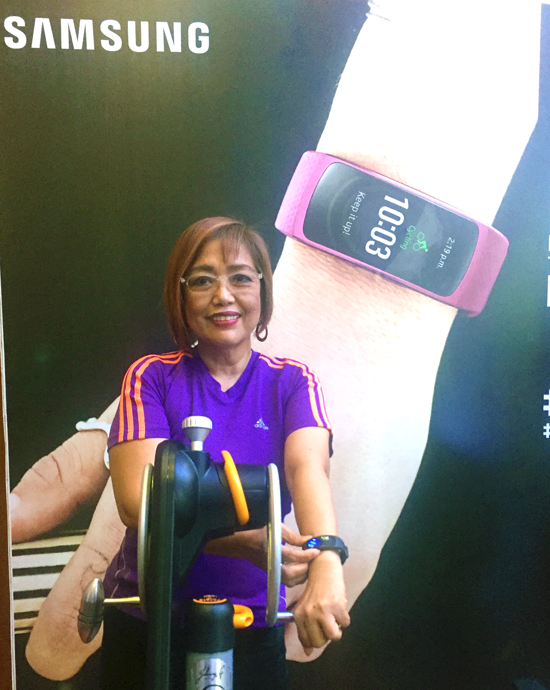 Thanks to other features available on the Gear Fit2 like a 2GB storage capacity to store up to 500 songs, and a curved Super AMOLED Display for easy viewing of their fitness data, the Gear Fit2 is truly an essential companion for fitness animals.
However, being able to track one's workout progress is not enough for fitness animals to achieve their goals. Movement and focus are equally important. Imagine doing a 10km run with wires hitting the face. That would immediately distract a fitness animal from truly focusing on his or her full goals.
I like that the Gear Fit2 has exercise options. When I did the squat in the right position, it would register the count. I did 29 squats in one minute.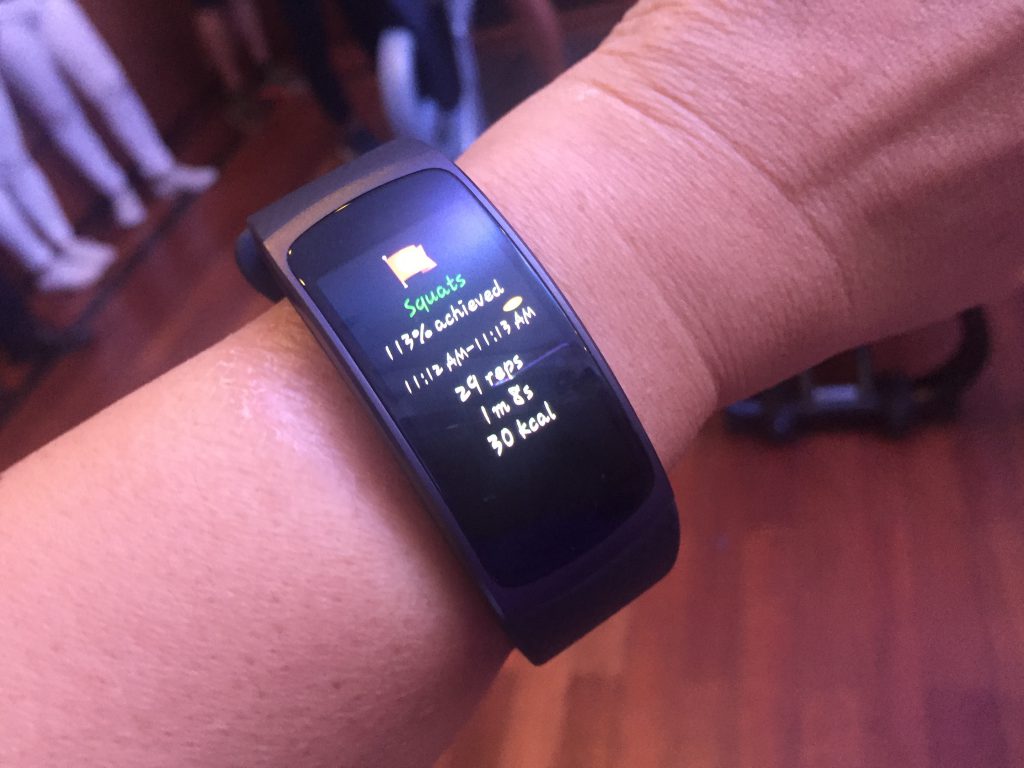 The all-new Samsung Gear IconX helps with just that. Having a truly wireless design, these cord-free fitness earbuds and help motivate fitness animals to push themselves more with its in-ear fitness tracker, something the market hasn't seen or any other earphone device can do, with real time updates on time, distance, speed, heart rate, calories burned, etc. Equipped with audio feedback, the cord-free earbuds provide fitness animals with a coach's voice in their head – literally – to push them further into achieving their goals and the most effective training they long for.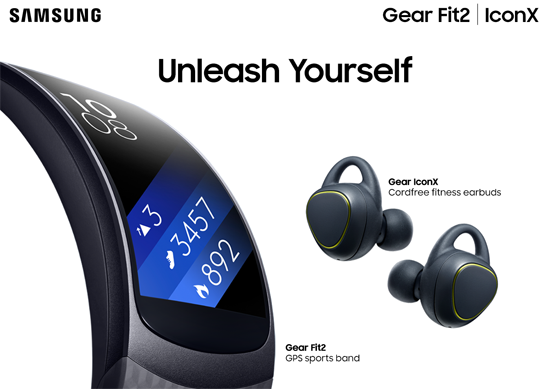 But it doesn't stop there: The Gear Icon X allows fitness animals to listen to up to 1,000 songs on its 4GB storage. Now if you use Spotify, you can connect your smartphone's bluetooth to the ear pods. Controlling the music player is done much easier, too, thanks to its Smart Touch function: users will be able to control the volume, or select play, pause, and skip with just a few simple taps on a Gear IconX earbud.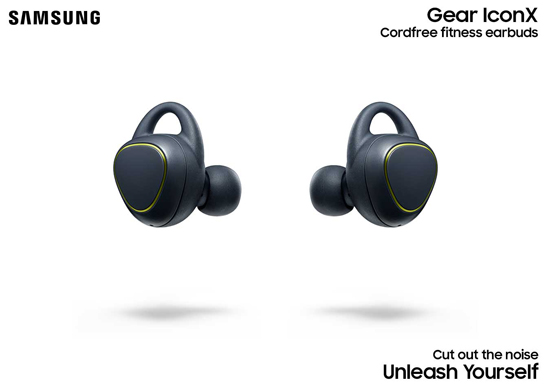 Samsung has also taken into consideration the safety of its Gear IconX users. The cord-free earbuds have an ambient noise feature that allows fitness animals to still hear their surroundings and be aware of their environment without sacrificing the need for a seamless music experience.
One of the best things about Gear Fit2 and Gear IconX is their compatibility beyond Samsung, working with Android 4.4 or above and 1.5GB RAM devices. Both fitness devices have the ability to function without the other. Too bad for iOS users like me but I have a second Android phone.
Anyway, I should stop writing now and work my way to 15,000 steps to wealth. Health is wealth after all. Do you agree? Join me.
The Samsung Gear Fit2 and Gear IconX are now available at Samsung Experience Stores and authorized dealers nationwide for only P8,490 and P7,990, respectively.