Update March 26- Mommy Blogger Contest Entries with the top 3 most number of Qualified Comments
1. Tina Ong
http://thephenomenalmama.blogspot.jp/2014/02/my-new-organizing-buddy-epson.html 191
2. Cai Sio
http://www.applesanddumplings.com/2014/03/an-epson-giveaway-for-oc-and-crafter-in.html 147
3. Tin Dychiao
http://www.manilafashionobserver.com/2014/02/lets-do-epson-labelworkspicturemate.html 131
DEADLINE is March 21: Get a chance to win a PictureMate PM245 or a LabelWorks LW-300. Check out my contest/giveaway below the cut for more details.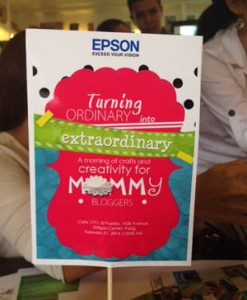 All moms are busy moms. Now even if my kids are all grown-up, I still need a system for everything. Being organized brings so much peace of mind and a balance between having grace for yourself and doing hard work. There are many ways to organize and one of them is setting up labelling system especially with our laundry. With adult children, our clothes get often mixed up. Of course , one way is to use a pen to mark each clothing item. But how cool is that? What about the photos taken from my digital camera? Does it need to be forever floating in the "cloud"?
At a mommy blogger event organized by Epson , they showed us how to turn the ordinary to an extraordinary. I loved how they showed two products that every mommy can use: the Epson Label Maker and the Epson Picture Mate. The Labelmaker creates perfect labels every time while the Picture Maker is your friendly mobile photo lab.
You will be amazed with these two Epson products but let me show you why:
Epson LabelMaker LW-300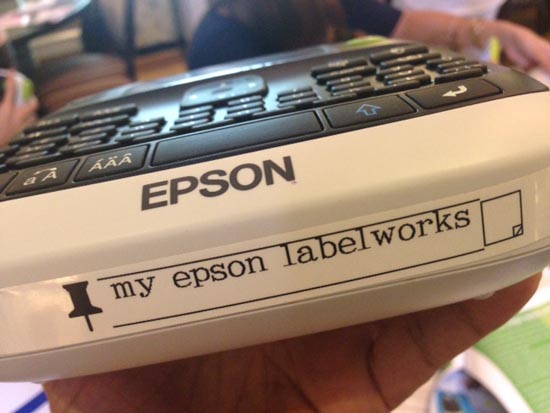 Don't you love a system where you can churn out labels in a fast and efficient way? Epson showed us with this lightweight and portable LW300 that accepts 9, 12  and 18 mm tape widths. It is also ideal for your home office labelling , including filing, storing, asset tagging and barcode printing. At home it is great to label your medicines and those pretty generic bottles at the kitchen.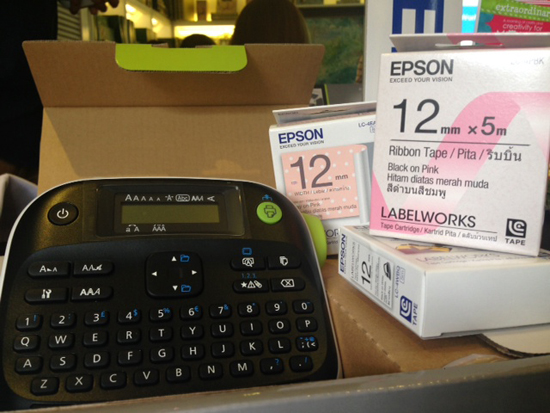 With a wide selection of tapes, sizes and colors , I can be sure one is right for me. Imagine, I have the choice of standard, transparent, pastel, metallic, ribbon , iron-ons and specialist cable wrap labels.  Each tape is 8 meters long and quite economical because it leaves minimal margins and less waste.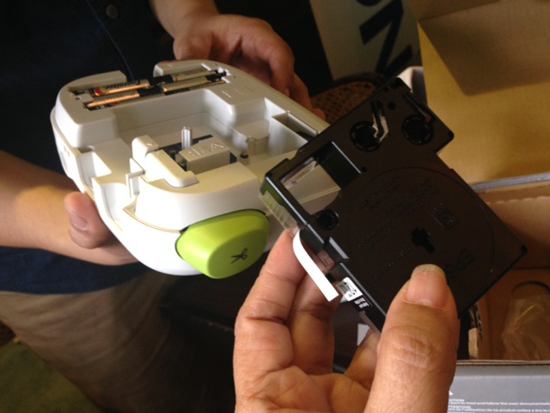 It is quite user friendly. In each box, there is a default black ink on white sticker label. Just remove it and place directly on the slot. It needs six triple A batteries though.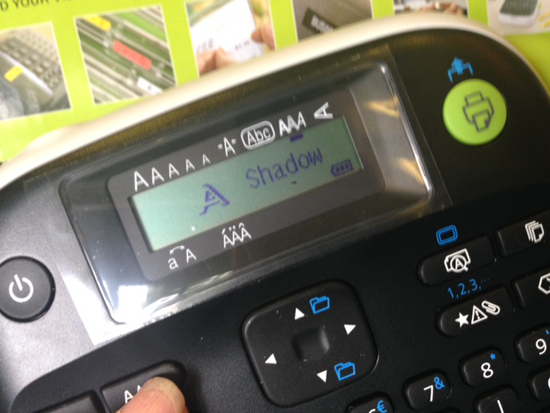 It is so simple to use especially with its ergonomic buttons.  Now you will be so amazed at the 14 font types and 10 different styles (bold, shadow, outline,)  457 symbols and 87 frames for cool designing on your label. There are dedicated buttons to give quick access to fonts, frames, cutting and printing functions.  It can also store up to 50 custom label designs for instant recall.  The backlit LCD screen gives a clear view whatever the light conditions are.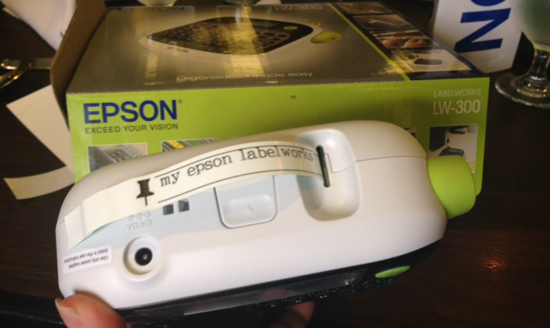 The first thing I did is label my Label works. It is so pretty. I will be using my Epson Labelworks to label my clothes so it is easier to sort out the laundry and store in our respective cabinets.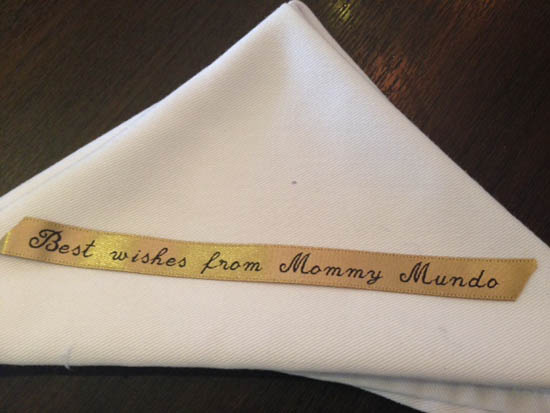 Janice , Mommy Mundo created a ribbon label. Love it? I am sure you do.
Epson PictureMate PM 245: Your Mobile Photo Lab
What is the use of those awesome digital photos if they cannot be printed. I know we can have online photos but it is also good to organize some of these selected photos in a paper album. I have always wanted to print family photos or even my customized photos instantly and with a photo reproduction that lasts?  Epson showed us the Picturemate PM 245 with it s Epson Micro Piezo print head technology. It aims to deliver superb and lasting photo prints at amazing print speed and low cost.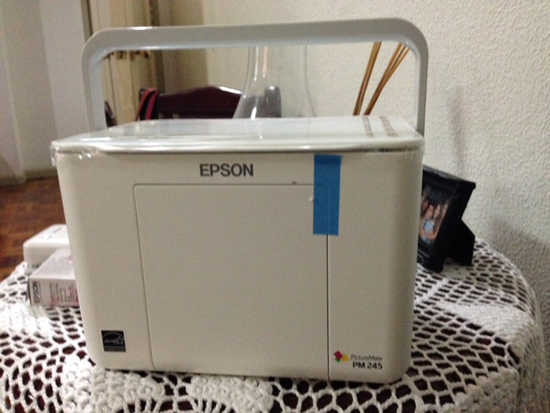 Look at how handy it looks. Photo printing is made easy even without a PC. It can create 4 x 6 photo prints  in lab quality in 37 seconds. As an added bonus, it comes with the option of borderless printouts.  Wow, I can now easily customize printing to fit various photo sizes for IDs, passports and visas. With just one click, I can print multiple copies in multiple sizes.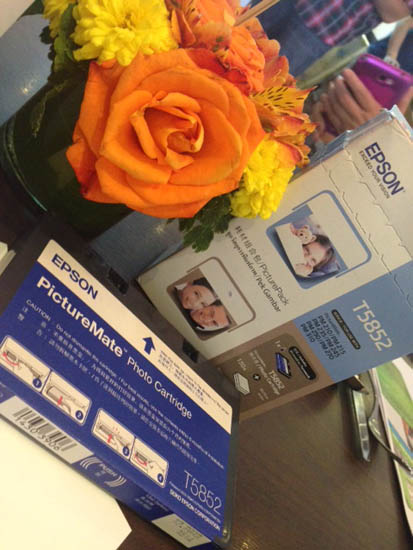 I can produce 150 4R prints with a picture pack that costs only 1200 pesos or 8 pesos for each 4R print. Now that's affordable considering I can create my customized printing needs.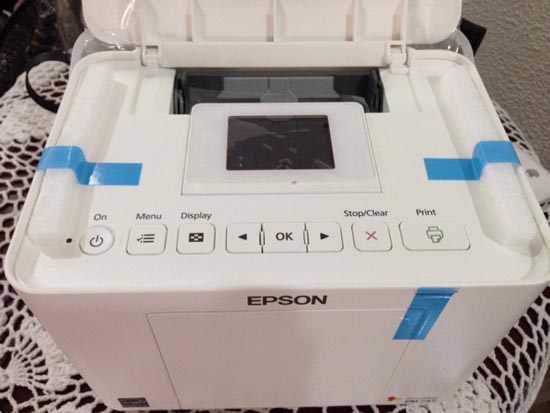 According to Epson, the smudge , scratch, water and fade-resistant Epson Claria photographic inks  creates such vibrant photos that last up to 200 years. Direct printing is done through the built-in memory card or connecting the digital camera using PictBridge or USB direct,  The tiltable 2.4″ LCD screen allows you to view and make last-minute effects before printing. Now you know why it is so amazing!
After the mommy blogger event, we all had a photo shoot and to test drive the printer. It is so nice. Now you know why I believe the Epson LabelWorks & PictureMate makes organizing so much easier and fun!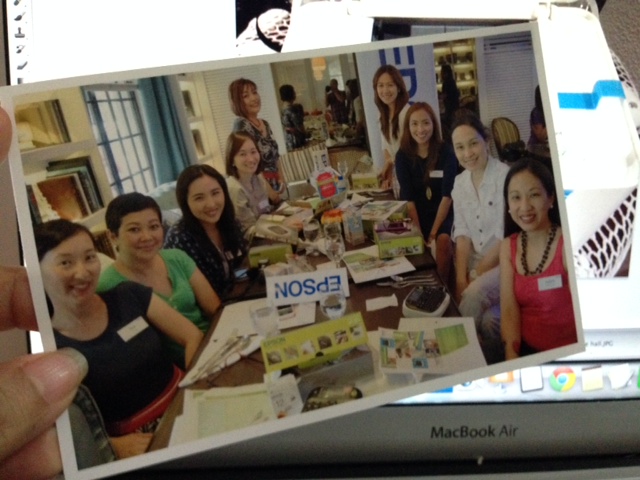 I will be using the Epson PictureMate for printing out the family travel photos that are stored in my hard drive.
Suggested Selling Prices
The Epson Picturemate PM 245 SRP is 7,995 pesos and the Photo cartridge T5852 with the 150 sheets 4R is PHP 1,200.
The Epson Labelworks LW 300 SRP is 2,268 pesos while the LW 400 is 3,175 pesos. Cartridges are : ?9mm Tape SRP: PHP 582.00
12mm Tape SRP: PHP 582.00
LabelWorks Tapes and PicturePack are available at Printers2Go at http://printers2go.ph or email [email protected]
Contest Mechanics
1. Just write on the comment section below "I WANT PICTUREMATE AND LABELWORKS " and your reasons why
i.e. "I WANT PICTUREMATE AND LABELWORKS so that I can creatively feature my baby's milestones on the scrapbook I am making for her.
2. Multiple entries/ comments from the same commenter will only be counted as one entry.
3. Winners should be based in the Philippines or have a Philippine mail address.
4. Please make sure your name in the comment section matches your ID card which will be used in claiming the prize.
5. If I get chosen to be the top 3 mom bloggers with the most number of valid comments, I get the chance to raffle either a PictureMate PM245 or LabelWorks LW-300 so help me promote this blog post too.
i. Most number of valid comments – (1) PictureMate PM245 worth 7,995 pesos
ii. 2nd most number of valid comments – (1) LabelWorks LW-400 worth 3,175 pesos
iii. 3rd most number of valid comments – (1) LabelWorks LW-300 worth 2,268 pesos
5. Deadline for comments: March 21, 2014