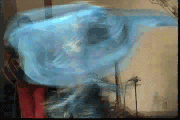 I've been dying to join a [tag]belly dancing[/tag] class ever since my daughter first introduced the idea to me four years ago. Finally after signing a petition, Fitness First The Fort launched "Belly Dancing" wednesday classes. I was late for the 10:00 AM class and ended up watching the women move their bodies to Egyptian music. How exotic.
I caught up with the teacher at the locker area and she said that I can still catch up. She'll bring colorful hip belts next week for only 700 pesos ($14.00). It costs 750 pesos in Market! Market!
I was brimming with excitement and teased my husband.
"And once I learn the rudiments, I can practice belly dance in front of you.
My second daughter overheard me and shrieked, "I didn't hear that! How disgusting!"
*sigh*
My daughters still think of me as a mother and not as a woman. Or her idea of belly dancing is sleazy sexual entertainment and limited to young women. Or did she think belly dance as stripping?
I didn't want to upset her anymore.
Really, there are many reasons why women take belly dancing .
* Exercise and dance;
* A fun hobby that nurtures self expression, celebration, fantasy and feeling pretty;
* Community and sisterhood;
* Cultural involvement;
* Balance of the yin when a career demands a lot of yang energy!;
* Physical and psychological therapy for reclaiming self esteem and for healing on many levels;
According to the American Council on Exercise, Belly dancing has emerged as one of the hot new workout trends in recent years. See, I hope to work hundreds of muscles, burn calories and de-stress with belly dancing.
I know that I will…
– love the control I learn to have over my body and how I stay fit.
– love the feminine connection I make with myself.
– love the mystical feminine components of belly dance."
My age shouldn't stop me NOT even my belly fats. I'm going to swirl my way to fitness. Belly dance will keep me younger — body, mind, and spirit!
Let's see. Stay tuned.