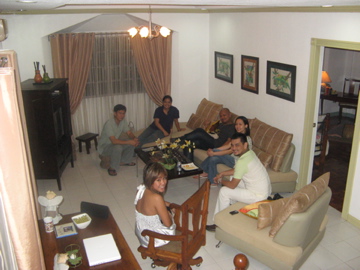 I still remember the dinner parties at our house. They were fun and less costly. But, now it seems to be a thing of the past. – Juned
It doesn't have to be that way, Juned. Though technology and urbanization indeed has made things so much more convenient for us, dinners and great conversation should never be a thing of the past. I know it is a bit more laborious to prepare food instead of hiring a caterer. The joy and the fulfillment of doing it out of love makes up for all the work. It's also one reason I refused my husband's suggestion to host my birthday party at a fancy restaurant or in a hotel's banquet hall.
Oh the good ole days! I remember the parties at our Cebu home in the seventies. It seemed my parents always had a garden party complete with a combo (band in today's lingo) as they entertained their friends and our large extended family. Our house could accomodate more than 100 guests that it was often chosen as a popular venue for our "mix parties" (dancing parties) in my teen years. Since it was the martial law era, parties started at 7:00 PM and ended at 11:00 PM so that we had enough time to beat the 12:00 midnight curfew. Getting caught during the curfew meant an overnight stay at the stockade. Oh yeah!People made use of those few precious hours to dance the night away. I often encourage my daughters to invite their friends over as I feel this new home is cozier and more homey than our old home in Makati. Besides, eating out or having coffee at Starbucks is really pricey.
Together with my daughter, Lauren, we hosted a housewarming party for the Band of Bloggers like Jayvee, Abe, Gail, Marc, Sasha, Aileen, Rico, Marc , Sharms and Juned. At the same time, it served as one of the small intimate gatherings for my 50th birthday celebration.
Though in a small scale grandeur than my good old youthful days, the evening brought in lots of laughter and great conversation.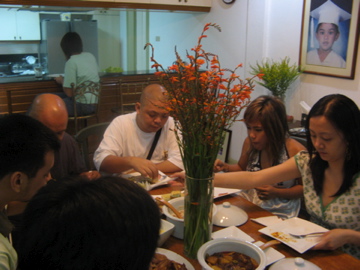 (A friend of Abe and Gail joined us in the early part of the evening)
The Three Bloggers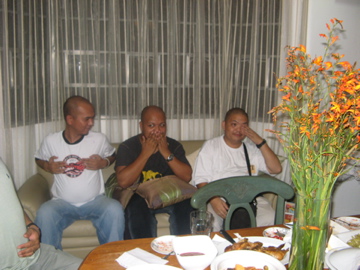 Hear No Evil? (Marc Macalua) , Speak No Evil (Abe Olandres), See No Evil (Juned Sonido)
I nearly hired string musicians to entertain us. Good thing I didn't. Marc Villanueva, Rico and Marc Macalua played the piano for us! Oh the good old days. I remember how my dad required us to play the piano after dinner time.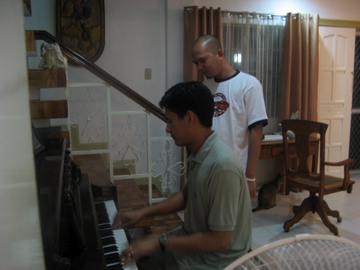 Some preferred a quiet conversation at the Meditation room. In fact , Marc fell asleep on the zen mat until they called it a night at 2:00 AM.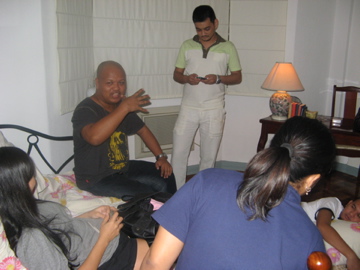 (Not in any of the photos but were present till 2:00 AM: Rico, Sasha and Aileen. I was too engrossed in the conversation)
Thank you for the wonderful evening! You were each a birthday present. Talking with all of you just dropped my age to that of a 30 year old woman.
Till the next future dinners.