Individually, we're one drop but together we're an ocean. We need to commit to a "gender parity mindset" through progressive action. With the global activism for women's equality fuelled by movements like #MeToo, #TimesUp and more – there is a strong global momentum striving for gender parity. So let's all collaborate to accelerate gender parity, so our collective action powers equality worldwide.
Select the one area that you commit to specifically concentrate on to press for progress for gender parity in your own sphere of influence. I will continue to press for progress and challenge stereotypes and bias:
question assumptions about women
challenge statements that limit women
always use inclusive language
work to remove barriers to women's progress
buy from retailers who position women in positive ways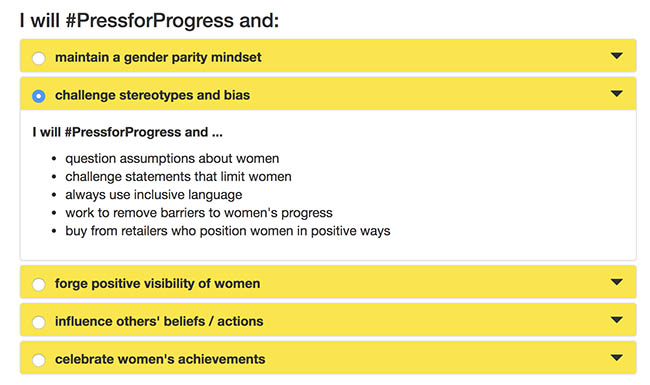 I've just taken action to help accelerate gender parity.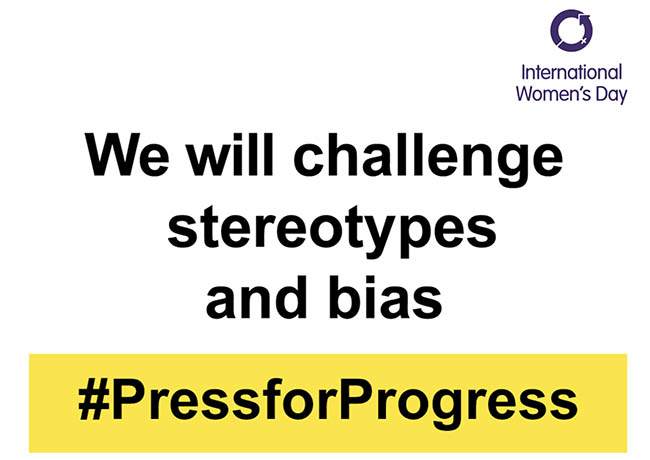 My concern is the blatant display of disrespect, disregard, and utter lack of awareness and understanding of human rights, moreso those of women, by no less than the President and other powerful men in government. What is enraging is that instead of celebrating the role of women in leadership positions and diverse voices that give meaning to a democracy, we are slowly witnessing women being shamed, their voices being silenced, and the culture of toxic masculinity permeating the very institutions that should demonstrate—and from which we should demand—the utmost respect for women and every individual.
"In today's digital world we can't afford to leave anyone behind. We need to press for progress for the better of each one of us" says Julie_Teigland. Let's do this.
Make a difference, think globally and act locally! Make everyday International Women's Day. Do your bit to ensure that the future for our girls is bright, equal, safe and rewarding. International Women's Day is not country, group or organisation specific. This  day belongs to all groups collectively everywhere. So together, let's all Press for Progress.