"I believe that children are our future. Teach them well and let them lead the way. Show them all the beauty they possess inside."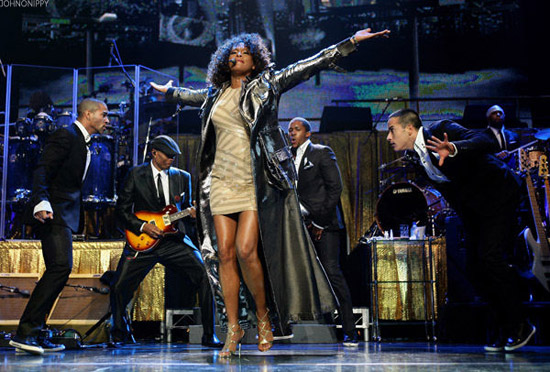 Whitney Houston was pronounced dead at 3:55 p.m. (6:55 p.m. ET) Saturday at the Beverly Hilton Hotel in Beverly Hills, California.
It is such devastating news to her fans. Indeed she was such an amazing talent. Her influence can be heard on a generation of young singers who cite her as an inspiration, from Mariah Carey, Brandy and Monica to Christina Aguilera and Beyonce.
"She had the perfect voice, and the perfect image: a gorgeous singer who had sex appeal but was never overtly sexual, who maintained perfect poise."
The cause of her death is still unknown.
Towards the end of her career she was known to be a drug user. Her album sales dropped. "Her once serene image was shattered by a wild demeanor and bizarre public appearances. She confessed to abusing cocaine, marijuana and pills, and her once pristine voice became raspy and hoarse, unable to hit the high notes as she had during her prime."
I will never forget this memorable song as its lyrics ring true to me. The "Greatest love of all" was the lullaby song I crooned to my babies twenty something years ago to make them fall asleep.
I believe the children are our future
Teach them well and let them lead the way
Show them all the beauty they possess inside
Give them a sense of pride to make it easier
Let the children's laughter remind us how we used to be
Everybody searching for a hero
People need someone to look up to
I never found anyone to fulfill my needs
A lonely place to be
So I learned to depend on me
[Chorus:]
I decided long ago, never to walk in anyone's shadows
If I fail, if I succeed
At least I live as I believe
No matter what they take from me
They can't take away my dignity
Because the greatest love of all
Is happening to me
I found the greatest love of all
Inside of me
The greatest love of all
Is easy to achieve
Learning to love yourself
It is the greatest love of all