"We can't call him an animal because I have pets and they are tame. No, he is a monster. They are monsters" Mangudadatu on Ampatuan Jr. and his gunmen.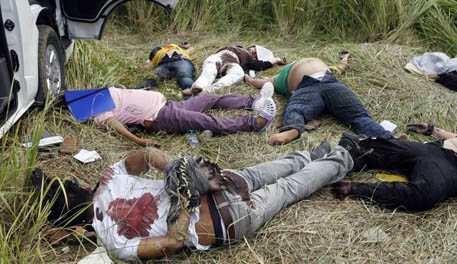 Photo Credits to Reuter
View Slideshow of Other Photos
I see it in
Twitter
, Plurk, Facebook and
blogs
. The outrage is all over the internet.
No to Maguindanao Massacre
.
Pat Dayrit a Twitter Follower gasps: Oh my god. The politics of this country is appalling.
A facebook friend posts at her wall: Mangudadatu told reporters, referring to Ampatuan Jr. and his gunmen. "My wife's private parts were slashed four times, after which they fired a bullet into it," he added. "They speared both of her eyes, shot both her breasts, cut off her feet, fired into her mouth. I could not begin to describe the manner by which they treated her."
I condemn this brutality. I feel so much for the families who lost their loved ones in the Maguindanao massacre. I weep as I see the mutilated bodies in photos . How do they even begin to comprehend the immensity of their loss? Such unfamiliar territory . There are no words to express my utter disbelief that this could happen in a democracy.
Continue reading my commentary on the Maguindanao Massacre at blogwatch.ph