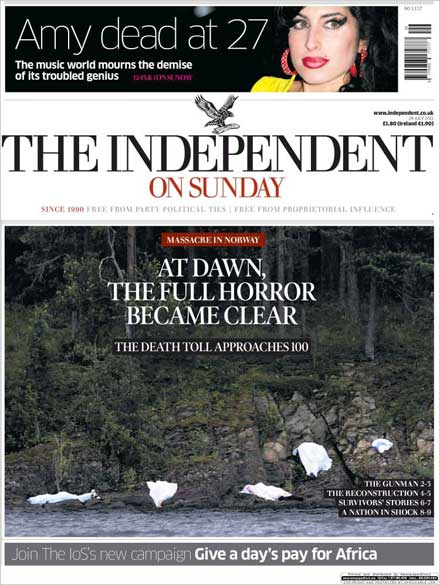 What could have possessed Anders Behring Breivik to kill innocent children? So many young children killed in Norway by just one person. Children, gone too soon. Unbelievable. Unimaginable. All children of someone who is now in pain. What is happening to the world?
Most of the bodies were found on Utoya island, where young people from the dominant Labor Party "had gathered for an annual camp. The suspect is Anders Behring Breivik, 32, a right-wing fundamentalist Christian, while acquaintances described him as a gun-loving Norwegian obsessed with what he saw as the threats of multiculturalism and Muslim immigration."
Dressed as a police officer, he announced that he had come to check on the security of the young people who were attending a political summer camp there, many of them the children of members of the governing Labor Party.

He gathered the campers together and for some 90 hellish minutes he coolly and methodically shot them, hunting down those who fled. At least 85 people, some as young as 16, were killed.
The poor children must have been so frightened as the lone gunmen shot them one by one.
And the parents… this is a traumatic death. A sudden, traumatic death shattered the world of these parents and their loved ones. It is often a loss that does not make sense. I condole with the families and relatives of all the victims in the bomb blast and the parents of 92 or so children that were killed in the labor. This is just outrageous. There are no words to describe the actions of this lone killer.
Trying to make sense of or understand this tragedy can be difficult. Survivors are left asking "Why?" "Why did this happen?" . "Why" may be more than a question. It may be an agonizing cry for a heart-breaking loss, an expression of distress and bewilderment.
The traumatic nature of the loss is just too much to comprehend. There is a lot of discussion in twitter about the indifference of the deaths in Norway. A tweet says "it's awful that Amy Winehouse is dead,but 90 children and teenagers were shot and killed in Norway, yet no one seems to care about that.." An angry tweeter says "Its shameful to see these idiots more concerned with a junkie than the innocent children who were killed in Norway. Sicko".
It is understandable to be angry. But sometimes it is hard to grasp such traumatic losses. Each death is just as painful. Everyone must be allowed to grieve in their own way whether it be loss of Amy Winehouse or the children and other victims in Norway.
Rest in peace to the children of Norway killed in the shooting. Let me echo one tweeter as she says "May your memories live on as motivation for peace'"