""I would rather die a meaningful death than to live a meaningless life." Corazon Aquino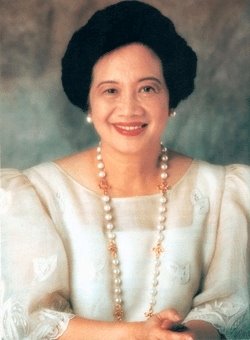 "Our mother peacefully passed away at 3:18 am of cardio-respiratory arrest" – Senator Benigno Aquino Jr.
Her son Sen. Benigno ""Noynoy" Aquino III confirmed that Former President Corazon Cojuangco Aquino died of cardio respiratory arrest at exactly 3:18 a.m. Saturday at the Makati Medical Center after battling colon cancer for more than a year. She was 76 years old.
According to two political analysts interviewed by abs-cbnNEWS.com /Newsbreak, Mrs. Aquino will be missed for what she symbolized.
""She's most powerful as an icon. Like Cardinal Sin. No one else can play that role. No one," said Alex Magno, a political science professor of the University of the Philippines.
I feel sad over her death and at the same time relieved that she didn't have to suffer for long. My husband wrote a few weeks ago that we should "Let Cory Aquino die in Peace". After having given so much of herself to God, country and the cause of democracy, why not give her this one last wish and let her die with dignity and grace ?
Her legacy as president is very precious to me. At the height of people power, I was 8 months pregnant with my first child, Lauren. It was a precarious situation with the massive cheating over the snap election.