To capture my initial reaction of the President's SONA, I wrote this entry while watching the SONA 2008 live coverage.
I care about my children who will inherit the country's future.
President Gloria Macapagal-Arroyo thinks of the poor and her fellow Filipinos in her State of the Nation Address (SONA 2008) (View SONA 2008 Video Archive and SONA 2008 Full Text). She kept saying "I care…"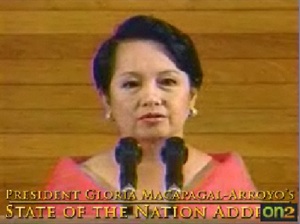 Madam President, I think of my children all the time. I had high hopes for the Philippines. I refused the US immigrant application in 1986 when Lauren was still a baby because I wanted my children to stay here and work for the future of their country. Sometimes, I think I made a mistake after seeing the state of our country through no fault of ours, you say.
To address these global challenges, you said that ""we have to reach out to those we need and who may need us, yet we strive for self-reliance."