Manny Pacquiao wins! Manny Pacquiao wins! TKO in Round 2!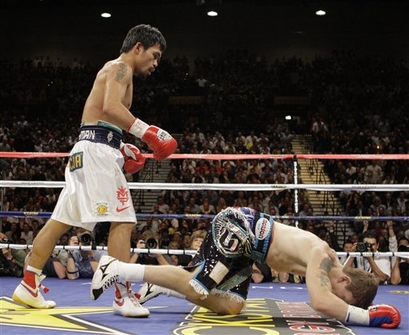 Photo via Thepinoy.net
Manny Pacquiao knocks out Ricky Hatton in the second round Saturday (around 11:36 AM, Sunday in Manila) in Las Vegas, Nevada, stripping the light welterweight crown and carving his name as one of the legends in boxing history. (Source: Pacquiao KO's Hutton)
The end came in 2 minutes 59 minutes in Round 2 in TKO victory. Freddie Roach predicted it to last 3 rounds.
Here are youtube videos in four parts:
Part 1

Read More »Manny Pacquiao wins in the Pacquiao Vs. Hatton Fight: Youtube Video