Year's end is neither an end nor a beginning but a going on, with all the wisdom that experience can instill in us. Hal Borland
Peace , love and prosperity is what I wished for 2009. Though Ondoy hit us and to this day, our cars are still in the shop, life is good. When I wondered what was coming for 2009, I told myself the best is coming, the very best in life and love had to offer, the best God will send and claim it as mine.
As the year ends, I feel blessed to be offered the position of Features Editor of Vibal's Foundation, Philippine Online Chronicles (POC) in recognition for the editorial work I do for blogwatch.ph.
How did I end up in an election watch project anyway when my only exposure to politics was my student council days? I had long envisioned myself to be of service to our country. Perhaps blogging is one way. New media events just fell into place. Sure, I am a blogger but a new media publisher is the more accurate word, because I create content, collaborate and connect.
Here are the events that brought me to the challenge I face today.

It started when Carlo Ople, the New Media Consultant of Senator Mar Roxas back in August 2008 invited me for a bloggers' meetup and I almost choked:
""Whaaat? I hope you won't ask me to endorse him or something".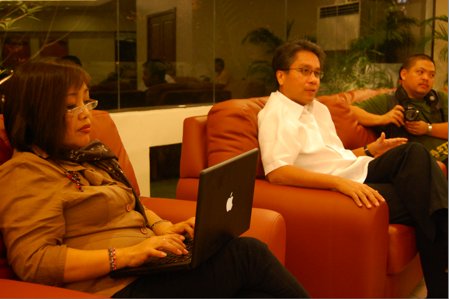 Another meetup with Mar Roxas in early 2009 brought me to the realization that politicians will actually meet with bloggers as election nears. I resolved to meet up with each candidate if an invitation is offered to me. It seemed important to share my thoughts to my readers in a simple and effective format.