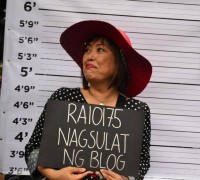 Originally posted at the Philippine Online Chronicles/ Blog Watch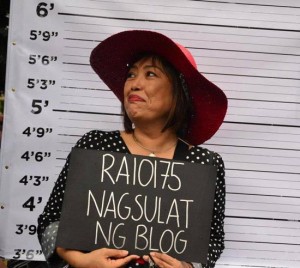 As one of the petitioners in the Philippine Internet Freedom Alliance (PIFA) versus the the Cybercrime Prevention Act  or Republic Act 10175 , I believed that the law only increases the lavish power of Philippine libel laws.  United Nations Human Rights Council is correct in calling Philippine libel law 'excessive.'
The Supreme Court (SC) does not seem to agree with the United Nations. Today, the SC "ruled on the constitutionality of online libel when it further declares that Sec 4 C4 which penalizes online and cyber-libel is not unconstitutional with the respect to the original author of the post." It means that those who participate in the libelous statement or message after it is posted violates Constitutional principles. Yes, it is safe for you to share this article to your social media network.
Atty. Harry Roque in a statement , said that "no less than the U.N. Human Rights Committee has already declared that Philippine Criminal Libel Law is contrary to Freedom of Expression. The Court's decision failing to declare libel as unconstitutional is therefore contrary to Human Rights Law. "
I am so disappointed at the SC decision on online libel . I welcome though, their decision on the unconstitutionality of the provisions such as the Take Down clause and the decision to strike down the real time gathering of information. The fight to protect our internet freedon and hashtags #notocybercrimelaw continue in social media.
Though my lawyer-husband warned me that  "libel has always been a crime, whether committed online or the old-fashioned, printed way", I am dumbfounded at the higher penalty. In the case of libel, under Article 355 of the Revised Penal Code, the penalty for libel ranges from P200 to P6,000  on top of the six months to six year-long jail time . The penalty would be increased by one degree higher under the Cybercrime Law. If I am charged with libel, I could end up in prison for 12 years. Penalties for online libel is far more severe than the penalties for offline libel.
Rep. Terry Ridon of Kabataan party-list says that "the upholding of the provision for online libel poses imminent threats to many content creators. Libel in itself has been abused for so many years to harass and malign journalists. What's stopping cunning individuals from exploiting the new online libel provision? I see none"
Inday Varona, former  head of citizen journalism site, said  " we tried to monitor the patently libelous posts. But the problem with libel as a criminal offense is, it encourages reprisals even when a post is true, fair and motivated by the best intentions. A criminal case is always a cause for concern. You think warlords care about the effort you took to be fair and truthful?" I agree with Inday that the SC decision  "only makes citizen watchdogs vulnerable to people in power with the resources to harass voices of dissent."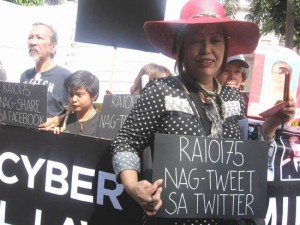 The Bloggers and Netizens for Democracy (BAND), composed of petitioners in G.R. 203469, are going back to the Supreme Court soon to file a "motion for partial reconsideration" regarding its decision on the draconian Cybercrime Law. I will join the fight to decriminalize Philippine libel. Goodness gracious, our country is one of the few countries in the world that still considers libel a criminal offense.
In the meantime, how does one protect from being sued for online libel? "Writing well is the best defense", my husband tells me. In other words, the best defense against anything that would curtail our freedom of expression, be it online or offline, is to express ourselves in words and deeds that are thoughtful, truthful and honest. It will force those who have anything at all worthwhile to say online to write well. My husband assures me that I won't go to jail as longas I write well. He adds that "there's nothing like a virtual gun to the head to make one choose his words wisely. And to craft one's writings carefully and deliberately." This includes writing opinions based on facts, and using words like "alleged" or adding a question mark to a statement. I have a lawyer to consult so it is easier for me to ask if I am being libelous or not.
I have no desire to spend the rest of my prime time years in jail so I will make sure I slug it out online with finesse.
Photo by Noemi Lardizabal-Dado. Some rights reserved.