We don't stop playing because we grow old; we grow old because we stop playing. George Bernard Shaw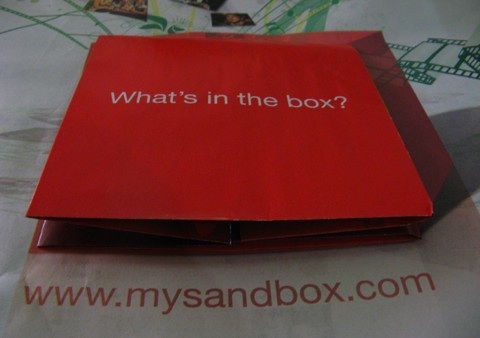 It's a lazy sunday morning and as is my usual routine, I picked up the newspaper to go along with the steaming brewed coffee that my daughter bought from Guam. A paper ribbon with mysandbox.com printed on it is wrapped elegantly around the newspaper. Cute. Inside the lifestyle Section E of the Sunday Inquirer, a two page spread of Sandbox teaser campaign is displayed (see photo above). Finally… SMART Communications launched their latest endeavor, the Sandbox. I have been playing with their Sandbox before this launch. Like a children's sandbox in a playground, it is both a toy and a tool for creativity, personal expression and interaction.
You know how it is…when children create castles, roads and bridges in the sand and play with their toy cars, dolls and blocks, they meet and interact with other children in a sandbox. That's what I did when I registered as momblogger (Add me!) and hooked up with my other blogger-friends. I place so much faith in Sandbox not because it serves as the ultimate application for SMART mobile phones, but because it is a social networking site made by Filipinos for Filipinos. Like the real sandbox, I can imagine millions of Filipinos can enjoy and express themselves within the boundaries of this virtual playground. Theoretically, Sandbox sounds great!