We don't stop playing because we grow old; we grow old because we stop playing. George Bernard Shaw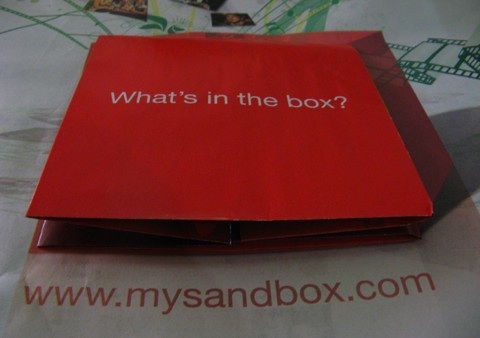 It's a lazy sunday morning and as is my usual routine, I picked up the newspaper to go along with the steaming brewed coffee that my daughter bought from Guam. A paper ribbon with mysandbox.com printed on it is wrapped elegantly around the newspaper. Cute. Inside the lifestyle Section E of the Sunday Inquirer, a two page spread of Sandbox teaser campaign is displayed (see photo above). Finally… SMART Communications launched their latest endeavor, the Sandbox. I have been playing with their Sandbox before this launch. Like a children's sandbox in a playground, it is both a toy and a tool for creativity, personal expression and interaction.
You know how it is…when children create castles, roads and bridges in the sand and play with their toy cars, dolls and blocks, they meet and interact with other children in a sandbox. That's what I did when I registered as momblogger (Add me!) and hooked up with my other blogger-friends. I place so much faith in Sandbox not because it serves as the ultimate application for SMART mobile phones, but because it is a social networking site made by Filipinos for Filipinos. Like the real sandbox, I can imagine millions of Filipinos can enjoy and express themselves within the boundaries of this virtual playground. Theoretically, Sandbox sounds great!
Sandbox being a new platform is bound to have kinks and it is one reason that I am not quite satisfied with the current platform despite my belief that Sandbox will become the social network of choice. Sandbox may be grappling with birthing pains. I know that the site and its services must continuously evolve and improve in order to keep pace with the needs of Filipino Internet users. As a blogger and mobile worker, Sandbox does not meet my expectations as a blogging platform , specifically the user generated content component. I would want to see future improvements:
1. Ease of mobile blogging.
The mobile version is not live yet and I am not sure if they will improve on it. Using their current interface, mobile blogging is not fast enough as I have to log in to post. I have to spend 10 pesos to post an entry while at an event and you know how it is in events. One is busy and just have a few minutes to dabble with the phone and send updates. I need the mo-blogging to be swift. I look forward to using the Sandbox as my mobile blogging platform. I want the same ease , similar to sending my updates to microblogging platforms, like Plurk and Twitter via a text message.
2. Less Cluttered Interface
I can't even find the place to change my password. Am I stupid or what? I have been online since 1995 and I certainly know where to change the password. It is either in settings or account. It is not even in My Profile. I know it is just there but it is not easy to spot.
Since the site does not save my password, I have to go to my email to copy and paste the alpha-numeric password. Navigating to the site requires two clicks before finally going to my virtual Sandbox playground.
When you log in, you go to the main page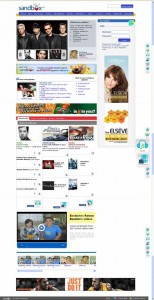 Click to enlarge
then finally my Sandbox page with too many buttons to click through.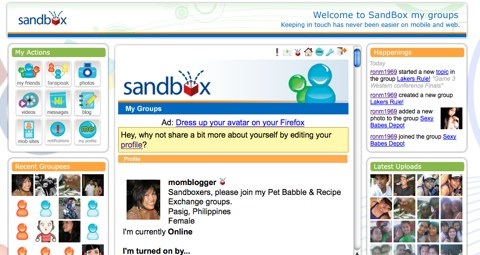 That's how the sandbox looks like. Pretty but chunky. A cluttered and confusing site will cost money to the user if they use the mobile version.
3. List of updated posts or timeline in text format
Maybe I got spoiled with Twitter, Plurk or even Facebook! Updates of my friends are listed down. Right now, I can only view 5 updates at a time in their "Happenings" section. There is no way to scroll down to see the rest of the updates.
I am quite disappointed that they chose this clunky platform and it is not even made by our Filipino programmers. If I am not mistaken, this platform came from Australia. I expect online platforms to be no-brainers, user friendly and intuitive. Sandbox fails in usability for now. Yes, Sandbox is a social network made by Filipinos for Filipinos. I am thinking that the generated content is what they call "made by Filipinos". Ely, a local design and usability expert adds more:
KEEP IT SIMPLE but USEFUL. If you had just made a simple cellphone application works like twitter (showing status updates), that allowed for 'one-button-click' picture and video sharing, that would've been more useful that this chop-suey social networking app. You tried to do too much. It was a waste of time and money.
My recommendation is drastic and unrealistic but I will say it just the same: ditch the current platform , hire our local Filipino programmers to develop a truly-Filipino Sandbox..
One positive thing going for Sandbox is that it is made possible by SMART's new technology called High-Speed Packet Access (HSPA), the next step in the evolution of the GSM (global standard for mobile technology). I once hooked my mobile phone to my macbook using the HSPA and got connected without interruption for 6 hours. With their 850 MHz HSPA network, I experienced fast and stable broadband experience. No kidding.
Though I have my own expectations towards Sandbox, I believe that the Sandbox experience will differ from one person to another. Some might not even go for the user-generated content but rely more on the online content store. Don't take my word for it. Try it out. One may initially get confused in the virtual sandbox but with persistence, you will find your way. Maybe, Sandbox will improve with time. It should.
Join me at Sandbox. Register at mysandbox.com. My username is momblogger (add me). I also created groups, Recipe Exchange, Pet Babble, and Parenting Talk.
Maybe we can play and build sandcastles together.
If you are a Sandbox user, what's your username? How is your Sandbox experience?
5 Reasons To Join Sandbox
Jayvee can probably convince you to join with his list on 5 reasons to Join Sandbox
1. Your friends are most probably already there
When Sandbox launched in April it had a few hundred beta testers who were members of mainstream and online publications. Communities have been growing at a steady rate across all spectra — video gaming, anime, tech, love, blogging advice, photography, food and dining .. the list goes on. And, if you can't find a group that fits you, why not create your own?
2. it is built as a one stop shop
There are two components to Sandbox – the user generated features that's composed of the social network aspect, blogging platform, and photo / video uploads and an online content store where you can download games and music (P30.00 per song, cheaper than iTunes). Sandbox integrates what's on your web browser with your mobile in your account creation page thus when you order items from your desktop or laptop, the information is pushed to your phone.
3. It has tangible benefits
Not that I have anything against other social networks, but this is the first locally developed one that actively gives out rewards and benefits to its members. So apart from the fulfillment you get with connecting with your friends, there are true offline benefits for participating in promotions and campaigns.
4. You can make money
Because Sandbox is locally developed, there are more interesting opportunities for you to make money through the system. Apart from an advertising platform within Sandbox that is currently being developed, there are going to be other engagements that will allow Sandbox netizens to build their online real estate such as the mobile site development. During the beta brief, Anton discussed the feasibility of growing your community. Just like with blogs, your real estate inside Sandbox values over time, especially when you grab potentially high ranking keywords.
5. It is continuously being improved
So really, the most exciting thing about Sandbox is that it is continuously being improved based on the feedback from the community. I'll be the first to say that what you're currently seeing is still the tip of the iceberg and the team led by Rezza Custodio has been actively looking into feedback. Of course, change doesn't happen overnight but the plans for the future of Sandbox will take a stronger stance on Web 2.0. So yeah, tell your friend
Sandbox is an online platform that allows anyone to connect with friends and share blog posts, photos and videos. Apart from this, Sandbox is also an online content store where you can buy music and games. So what sets it apart from other social networks? Sandbox is also locally developed and thus there is a continuous stream of offline fulfillment through giveaways, raffles and prizes. Read more on Sandbox
There will be live plugs/demos on SOP, Showbiz Central and the Buzz! Later at 4pm, Boy Abunda will be talking about it in the Buzz, and Pia Guanio will interview Mo Twister for Showbiz Central.
Disclosure: I have been a sandbox user before the official launch.
What other Bloggers think of Sandbox
1. What is Sandbox? by Jayvee
2. Playing in the Sandbox by Ria
3. Smart's Sandbox: Quo Vadis? by Juned
4. SMART's Attempt At Social Networking by Ely
5. Mobile 2.0 War: Sandbox vs. Pixlink, by Anton