This is just so disgusting. Willie Revillame, you are the lowest of the low.
I watched this video of a six year boy crying as he danced in Willie Revillame's show. Watch as Willie laughs and picks on the poor boy (removed video now)
My heart just goes out to him.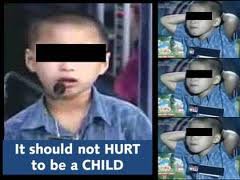 My friend, a mother herself asks :
What have we become as a people if we consider the humiliation of a helpless six year old boy as entertainment? Of course the issue also goes back to the family — why in heaven's name would you teach a six year old to dance that way? My heart broke as I watched the expression on this little boy's face.
@iamhappyamy tells me in Twitter" @momblogger a kid gyrating like a macho dancer, willie making fun of him, the audience enjoying – truly sickening!" @yeahred adds "Letting a kid dance sensually on national television (and enjoying it) is very inhuman. Willie Revillame, you're such a disgrace."