This is just so disgusting. Willie Revillame, you are the lowest of the low.
I watched this video of a six year boy crying as he danced in Willie Revillame's show. Watch as Willie laughs and picks on the poor boy (removed video now)
My heart just goes out to him.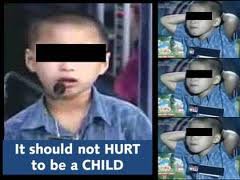 My friend, a mother herself asks :
What have we become as a people if we consider the humiliation of a helpless six year old boy as entertainment? Of course the issue also goes back to the family — why in heaven's name would you teach a six year old to dance that way? My heart broke as I watched the expression on this little boy's face.
@iamhappyamy tells me in Twitter" @momblogger a kid gyrating like a macho dancer, willie making fun of him, the audience enjoying – truly sickening!" @yeahred adds "Letting a kid dance sensually on national television (and enjoying it) is very inhuman. Willie Revillame, you're such a disgrace."
And the way Willie Revillame laughed like crazy. I cried as I watched the boy dance and cry at the same time. Even the aunt is laughing. You find it entertaining to see a six year old boy cry as he is forced to dance?
Isn't this a violation of the "Special Protection of Children Against Abuse, Exploitation and Discrimination Act" Section 3 (b)?
(b) "Child abuse" refers to the maltreatment, whether habitual or not, of the child which includes any of the following:

(1) Psychological and physical abuse, neglect, cruelty, sexual abuse and emotional maltreatment;

(2) Any act by deeds or words which debases, degrades or demeans the intrinsic worth and dignity of a child as a human being;
What Willie did is humiliate this boy repeatedly in front of millions of people. Where is the dignity in that? Why does he subject Jan-Jan who is obviously crying, to that kind of torture. The adults who taught him to dance that way? Ugh, the very same people responsible for his well-being.
Benjamin Pimental adds "Heck, let's be more direct on this: We have a big problem if it's OK for most people to let a big shot TV host treat a child like garbage."
@gangbadoy hopes "ad executives, brand managers, people who pay for media airtime will STOP sponsoring shows that poke fun at kids. Advertisers, power! Advertisers more than the critics – have the power to sink a show. Pull out of advertising this show. Detergents, dish soaps- kaya nyo."
A friend told me the Wiling Willie show is allegedly sponsored by the following: P&G's Head & Shoulders, UFC Cook & Dip Catsup, Oishi Cookies, Smart C Drinks, Jollibee's Mang Inasal, Unilever's Rexona, Pepsodent, Vaseline, Surf Liquid Detergent, Glutamax Face Cream, Pau Liniment, Yakult, CDO Funtastyk Young Pork Tocino, Technomarine, Will Tower Mall, Daily Spell fragrance, Wil Cologne, Protec-Cee, Foton Automobile, Manny Villar's Camella Homes, Cebuana lhuiller.
TV 5 are your proud of your biggest star who picked on this little boy?
The station, the advertisers, producers and all people involved in this show should be ashamed.
There are no words. Grabe!
Here is a letter to Jan-Jan.
What did others think? All are disgusted.