What does education mean to most of us in the cities? When my kids were then going to school, it meant yelling at them at 5:00 AM to wake up so they wouldn't be late for their school bus when it arrives at 6:00 AM. Sometimes, I would drive them to school especially during exam days. Those days seemed stressful to me just because I wake up so early in the morning. I have had it easy, I guess. For most children, it means getting up and commuting through jeepneys or tricycles. Sometimes, it meant walking to school.
But for some determined children in Isla Mababoy, Brgy. Guinhadap, Monreal, Masbate, it means getting up and wearing swimwear just to get to their class. These kids are determined to get an education because it is their only ticket out of poverty.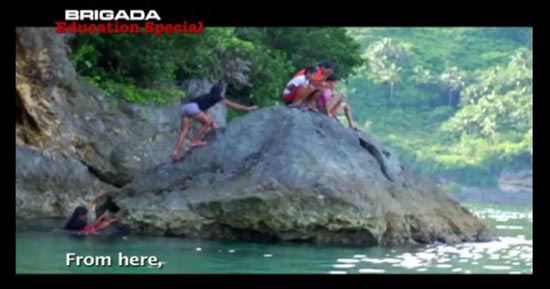 It is a tough swim for the kids from Isla Mababoy. It's a 300-meter swim (around 20-30 minutes) from the island of Mababoy to the main island of Guinhadap.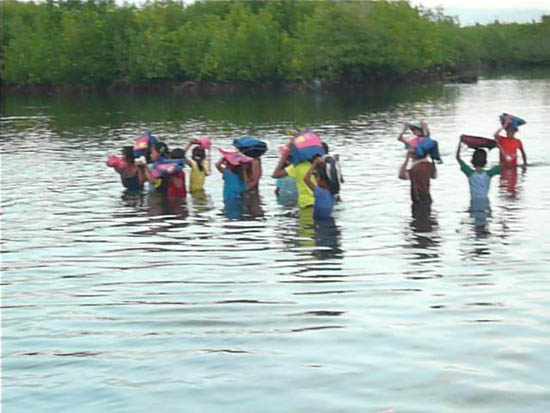 Watch this video:
Yellow Boat of Hope Foundation
I have been aware of Jay Jaboneta's Yellow boat project since April 2011. His story of seeing kids swim to school in Zamboanga and doing something to help them touched me.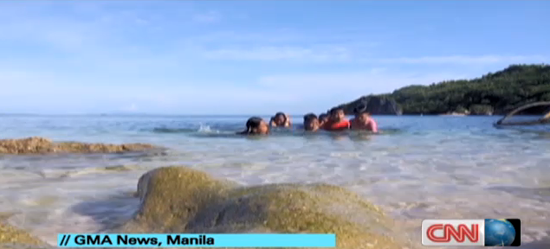 It started with a Facebook wall post and soon help poured in. Yes it was a life-changing facebook wall post. In less than a year, many schoolchildren have stopped swimming to school and help did not stop there because the project gives assistance to their families and community.
The boat's name is Bagong Pag-asa" (New Hope), to signal a new beginning for the kids in recognition of their determination to obtain an education no matter the hardship.
The Philippine Funds for Little Kids NOW known as the Yellow Boat of Hope Foundation have since provided these communities in Masbate and Zamboanga, yellow school boats . It does not stop there. The Foundation has since moved on to helping support them through provision of other school supplies, medical/dental missions to their communities, scholarships and even through livelihood programs.
The Yellow boat for kids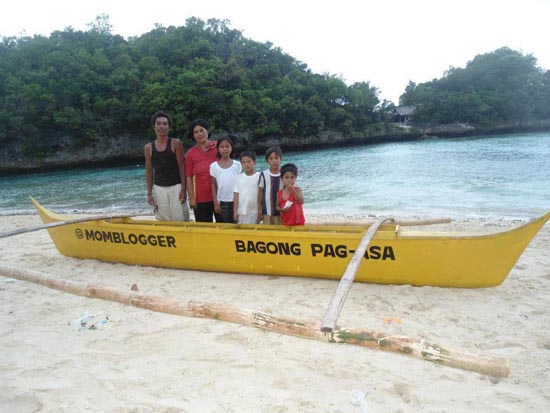 Thanks to Eton International School and Jacqueline Marzan Tolentino for donating one yellow boat in behalf of my name (@momblogger in twitter) . When Eton International School invited me to deliver a talk on "Parenting in the new digital age" for their 8th Leadership Awards in March, I chose the donation of a Yellow boat for the Masbate Funds for Little Kids. It is our own small way of creating more opportunities so that no child is left behind in our country.
Let me share this quote from Jay Jaboneta which reflects what they are doing:
""The great thing a little lamp can do which the big sun cannot do is to give light at night. It shows no one is superior by size but by purpose. If we cannot do great things, we can do small things in a great way. Little things make a big difference to God."
I am such a firm believer in being part of the solution, even small steps like that facebook wall post that changed the lives of 200 kids in Zamboanga.
We are all part of the solution.
YOU are part of the solution.
If you are interested to help, visit Facebook pages of Masbate Funds for Little Kids (Isla Mababoy, Brgy. Guinhadap, Monreal, Masbate) and ZamSur Funds for Little Kids (Lakewood, Zamboanga del Sur) or Yellow Boat of Hope Foundation.
Monetary donations

Yellow Boat of Hope Foundation, Inc.
Banco de Oro – Mayor Jaldon Branch Zamboanga City
S/A no. 3170134579
BDO Swift Code BNORPHMM
For in kind donations, you can send it to Zamboanga City, where is headquartered through:
Dr. Anton Mari H. Lim, DVM
Unit 4, Dian Hap, Bldg F, Nuñez St., Zamboanga City 7000
T. N. (062) 991 0226
For any inquiries, please email Jay Jaboneta at [email protected]!