"There is sadness in parting, but it should fill us with new hope." – Fr. Ambrose
Fr. Kulandairaj Ambrose of Missionaries of the Poor delivered a beautiful homily for Secretary Robredo. I like this quote the most "Sec. Jesse passed away doing what he loved the most, going home."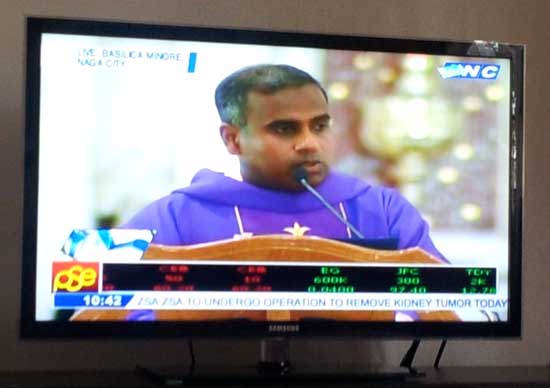 Here are some snippets which I culled from @piahontiveros and others from twitter. You can also watch the video below from @ancalerts:
Some quotable quotes from his homily:
"Ninoy said the Filipino is worthdyingfor. Today, another great Filipino, SecJesse hasshown every Filipino is worth dying for."
I met Jesse 20 years ago. 2 things impressed me about Mayor Jesse. He was a MAN OF THE FAMILY and a MAN OF THE POOR.
"Why me? When Atty Leni asked if I would celebrate the mass? A simple missionary priest…
"I am a priest of the missionaries of the poor from Jamaica."
"I speak in behalf of the tsinelas people."
Typhoon Reming, 2006. I was shocked when the Mayor's car drove into our center. He came to find out if everyone was safe.
He was always there for us.He was there whenever we needed him. and even when we didn't need him.
Who is the other woman in the life of Mayor Jesse, Bicolanos?? Ina! Viva la Virgen!
The VOPs. The very ordinary people. His "inclusivist" attitude.
to the family: in you we see Sec Jesse's spirit of humility.
He was there for you. He was there for me. He was there for everyone. We all felt appreciated by Sec. Jesse.
in you we see Sec Jesse's spirit of humility.
Sec. Jesse passed away doing what he loved the most, going home.
There is sadness in parting, but it should fill us with new hope."
And finally, Atty. Leni Robredo speaks after accepting Legion of Honor for Sec. Robredo
Atty Leni Robredo says " Maybe for him, it was the perfect end for a life well-lived."
We are devastated by your loss but even as we grieve we will continue to live because your spirit lives with us
"I will not say goodbye because I know that you will never leave us. You are home now. We will love you forever."
You are home now, where you truly belong. Rest now, we will love you forever.
Here are some heartfelt reactions on twitter.