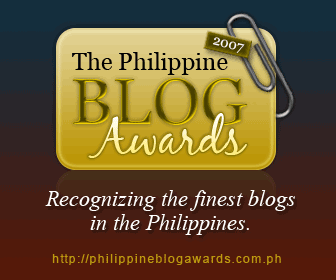 The 2007 Philippine Blog Awards nominations is still open. Nominate your favorite blogs!.
The proponents of this project namely Abe, Jayvee and Gail assigned me the wonderful task (again!) as Committee Head for Venue and Food . I had been stressing out over the venue for the past 3 days because of Jayvee's entry
Our most urgent requirement is a venue. Not that there are no venues – but we really want to get that ""sweet spot" between elegance, space and location. We'd love to hear suggestions from the community on where we can hold the venue. We are currently thinking of the mini theatres in Ayala Greenbelt 3 or Shangri-La Mall. Other known venues would be The Events Place and Teatrino at the Greenhills Promenade.
Without a venue, it is difficult for us to plan the logistics, the budget and the overall project planning. Our first choice was the Mall of Asia Music Lounge but the desired dates were unavailable. Besides the rental was in the 6 figures during weekends. Greenbelt was fully booked and so was Music Museum. With a limited budget given to me, I bit the bullet and went for this really swanky theater only because the desired date was available. Placing trust in the thought that "this is a sign that this place is for us", I took my chances. Since Abe already mentioned it in the vidcast interview with Inquirer.net as well as Jayvee, I might as well blow the trumpets too. Hear ye…
The formal awarding ceremonies of the [tag]2007 Philippine Blog Awards[/tag] will be held on March 31 at 6:00 PM at the Carlos P. Romulo Auditorium, Podium 4 at the RCBC Plaza, Makati City. It's a really nice theater with a capacity of 450 persons. This afternoon , Jomar, Jayvee, Abe and I met with Raul Paliza, the building administrator. Jomar and Jayvee did an ocular inspection of the theater while I discussed details with Raul. We were quite happy with the place. After threshing out details, I signed the contract which means that if I don't get sponsors, I am responsible for footing the bill. Anyway, Abe , Jomar and I talked to a potential sponsor to help defray the venue fee. So yeah, we need more sponsors.
Come on, submit your nominations. Final deadline is Sunday , March 4, 2007.
A few blogs that I have nominated deserve special mention because they are inspirational and spread the Good News.
I nominated a lot more but it's a surprise.
Review the list of nominees for the 2007 [tag]Philippine Blog Awards[/tag].
Here is INQUIRER.net Video: Abe and Jayvee discuss Phil. Blog Awards

Exciting.