March 7 is our 28th year anniversary. We 've always celebrated it ever since we became steadies on March 7, 1978, way back during our carefree college days. I know steadies is such an obsolete word. What do kids call it these days?
And so 28 years ago, we looked like this:
So young and head over heels in love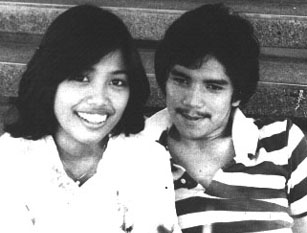 Taken sometime in March 1978 at the UP campus
Today, after 3 children, a death of our son, white hair, lines and creases and flabby tummies to boot, our love is stronger than it ever was .. .

28 years later…
I'm making a special dinner tonight.
May we have more years together.