Disclosure on Political Affiliations: I do not work for Mar Roxas or any other politician. Neither am I affiliated with a political party. I am close to Senator Pia Cayetano and Senator Alan Cayetano . Our relationship ties date back even before they became senators. Former President Fidel V. Ramos is a family friend due to ties from my father-in-law. I used to be a student activist in my UP Diliman days. My political views range from conservative to liberal. I don't have plans to run for public office.
Thought I'd write a disclosure before you read the entry below.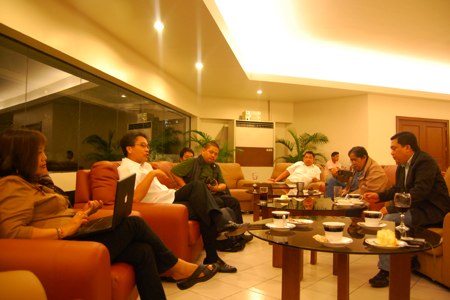 What happened to my blog? I am not a political blogger. I hate politics. My blog's advocacy focuses on parenting, wellness and recovery. Look at the events that have transpired towards the end of 2008 and early weeks of January 2009? I cannot help but blog on these current events especially since they create an impact in the future of my children and the Philippines.
Making a stand also opens door to criticisms and the usual ad hominem from the same old, same old critics who jump on any news about me. I do not lose focus on my blog's goal and I continue to achieve all of these goals and gain social impact by writing about it in my blog and participating in events and activities relevant to this blog's advocacy.
So why did I find myself once again with Mar Roxas and other political bloggers last friday night at the Balai Ni Mar in Cubao's Araneta Center? Certainly not to make idle chat. Like I told you, I hate politics yet I can't remain apathetic.
It's so easy to rant and rave about politicians from the comfort of home. It's easy to plop down on our computer chair, blog away and idealize what the Philippines need. I feel quite helpless really, just typing away my thoughts in this blog when I know I can do more. I care about my children who will inherit the country's future. One way to understand the future of our country is to talk up close and personal to the 2010 Presidentiables. It is almost common knowledge that Mar Roxas will run in 2010. He said he will announce it eventually.
I will have to reserve my judgment on whether Senator Mar Roxas will make a good president or even as a presidentiable until I get the chance to meet the others. Though I have met the other rumored presidentiables in social events, it is still not the same as talking to them in the same candid setting. While the political bloggers discussed relevant issues with the good senator, I find myself in a "nosebleeding" fit. I still have to read more about the Charter Change, the Bangsa Moro and other political matters before I can fully participate in the discussion and eventually share my opinion with you.
One concern rings true for most mothers, "Is there hope for this country?" Senator Mar Roxas says he is a hopeful person but then I get lost with his answers or was it a "nosebleed" attack that made me woozy?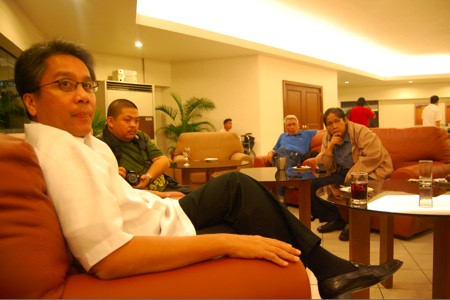 Mar Roxas more than survived the night especially a Dean Jorge Bocobo (DJB) attack because Mar was such a good sport when DJB sent out a barrage of political issues like EDSA 2, the Moro rebels, GMA, Martial Law and more. Mar remarked that if he could survive the bloggers, he could probably survive anybody.
Now won't it be nice if I get the chance to pick the brains of other presidential candidates?
Other Related Blog Entries on Mar Roxas
Mar Roxas and the Search for the Maginoo by Pat Mangubat
Are Filipinos Ready for Mar Roxas? by Ding Gagelonia
Diclosing by Marck Ronald Rimorin
Authenticity and Mar Roxas by Caffeine Sparks
I.T.P.S.- It's the people, stupid> by Benign0
Searching for our voice in 2010 by Pat Mangubat
Right to Bitch… (read the last part) by Jester in Exile
Dinner, Talk and Action by Juned