I gathered data on children's mortality rate in the Philippines for a proposal on a Children's Memorial Day. The statistics are alarming.
32 out of every 1000 Filipino children die before their 5th birthday.
While under-five mortality has declined slightly in recent years from 54 deaths per 1,000 births in 1988-92 to 48 deaths for the period 1993-1997, infant mortality rates have remained almost unchanged at about 35 deaths per 1,000 births.
I am sure the government is doing something through their public health offices nationwide. I find it fortunate that there is a Bata Movement to lead the way as they establish awareness and action by forging mga batang pinalaki sa tamang alaga. An initiative composed of organizations from all over the country, the movement is a concrete response to the 4thMillennium Development Goal (MDG4) which has the objective of decreasing mortality among infants and children below 5 years of age by 2015.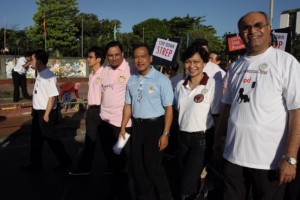 ""More than the sheer number of children's lives wasted, the one thing more alarming is the fact that they could have actually been prevented," asserts Dr. Lulu Bravo, Co-Convenor of Bata Movement and Executive Director of the National Institutes of Health. She shares that one of the strategies by which Bata Movement plans to address this is through advocacy and awareness. ""We want to encourage people to focus on the plight of children and to inform them about the recommended interventions for child survival."
One of the most pressing interventions which Bata Movement wishes to promote is vaccination and in particular, against the number killer of under-5 children worldwide, Invasive Pneumococcal Diseases (IPD).
Each year, around 1 million succumb to (IPD); including 82,000 Filipino children. Meanwhile the WHO and UNICEF further underscores the importance of IPD by identifying its bacteria, Streptococcus pneumoniae, to be the leading cause of Pneumonia. In the Asia Pacific region alone, 98 children die from Pneumonia every hour – more than AIDS, malaria and measles combined. ""Being the leading cause of pneumonia deaths in children, a reduction in the incidence of pneumococcal disease would most likely result in improvement of child survival," notes Dra. Bravo.
To counter the threat of Invasive Pneumococcal Diseases, Bata Movement is working towards increasing awareness among the general public, policymakers, and the healthcare workers themselves on the value of IPD vaccination. Dra. Bravo shares: ""Vaccination is considered the most cost-effective measure for preventing disease. And because recent vaccine developments have made possible the production of a pneumococcal conjugate vaccine that will be safe and effective for infants and young children, every effort must be exerted by every country and community to make such vaccines available to them."
Aside from vaccination, Bata Movement decrees that the essential child survival package should include the following:
1. Skilled birth attendants
Ensuring that mothers deliver in hospitals, lying in centers or by trained midwives and physicians
2. Proper newborn care
Cleaning, giving warmth, latching-on during the first hour of life, are some of the procedures done for the newborn
3. Exclusive breastfeeding for 6 months and complementary feeding
4. MicronutrientsSupplementation and de-worming
Includes the giving of Vit A, Iron,Zinc and regular deworming for children as well as pregnant women
5. Integrated management of diarrhea, pneumonia and malaria
6. Accident and injury prevention
7. Birthspacing
8. Other interventions for endemic areas
Use of Insecticide-treated mosquito nets for malarious areas, safe drinking water and prevention of maternal transmission of HIV
Bata Movement believes that that the above interventions may prove to be the most cost-effective and even inexpensive for some of the measures enumerated. It's the purpose of Bata Movement to issue a call to action for the proper implementation of these interventions. Communities, local governments and other health authorities should allocate the needed resources, should prioritize health measures and make them accessible to all children, through all levels of society.
""Through Bata Movement, we are enjoining our people and fellow child health advocates to improve child survival," ends Dr. Bravo.
Hopefully through the Bata movement, we can stop the deadly hand that rocks the cradle.