When it comes to local showbiz scenes and Who's Who?, I am totally clueless. Local Filipino movies just don't interest me at all…unless I get invited by a friend or I know the people involved in the production. There is the movie The White Lady which we watched only because the director was Butch's classmate in Law School. Then the last movie I watched was I've Fallen For You directed by Lino Cayetano because he is a family friend. This afternoon was a bit different. Together with some bloggers, I attended a grand press conference for Batanes, a love story co-directed by Dave Hukon and internationally acclaimed young indie-director Adolf Alix Jr. Written by Arah Badayos, the film is a love story between a Filipina and a Taiwanese and circles around how the waters of Batanes test their love and individualities.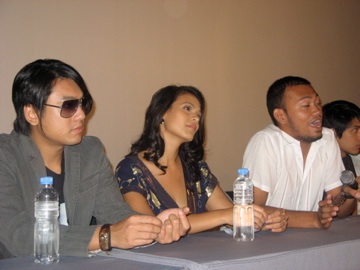 The film stars Ken Zhu of the Taiwanese boy band F-4 fame and Iza Calzado. At the press conference, I felt really out of place amidst the showbiz reporters. Haha, I was laughing at myself as I embarked on this latest adventure as it is so out of character. But wait, I attended the Press Conference as my way of helping promote Batanes Islands. The fastest route to Batanes is through Asian Spirit which is the only airline that flies to Batanes and other remote islands in the Philippines. [tag]Asian Spirit[/tag] is also the major sponsor of Batanes which is really nice gesture on their part to support an indie film.

As I watched Batanes, I could not help but gasp at the beauty of the island. Here is where the Pacific Ocean and South China Sea meet in a majestic clash of waves that surrounds Batanes. From the cold northern winds that plow through the famed Marlboro Country, the 155 steps of the Chawa Viewdeck all the way to the romantic view of the cliffs and waters from both the Sabtang and Basco Lighthouses, Batanes gave me the impression of being in ""another place and time." The island is composed of ten islets but only three are recorded by the National Statistics Office as inhabited namely Basco, Sabtang and Itbayat with other cities like Mahatao, Ivana and Uyugan. No wonder Adolf Alix and Ignite Media Inc. CEO Dave Hukom shot this full-length feature film aptly called "Batanes"- a first for the company, with the island as one of its "characters."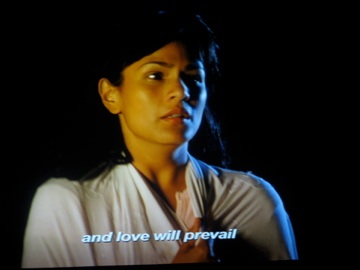 Aside from the love story and the breathtaking beauty of [tag]Batanes[/tag] Island, the script was well-researched especially in the grief aspect. Pam (Iza Calzado) lost her husband in a sea accident. Naturally she goes through the grief process which is shown without too much melodrama. There is the initial denial. Her holding on to her husband's shirt hit me hard. I had a similar scene myself when I rushed to my son's bedroom, got his clothes and cried while hugging Luijoe's shirt. Life can be like a movie sometimes.
The showbiz writer beside me kept saying nasty comments that she was getting crazy and acting stupid. But of course, she is so fresh in her grief. Maybe this writer has never known grief. Like in the movie, I have met a lot of bereaved family members who often leave a seat in the dinner table or bring a clothing item to bed. Each person has their own way of grieving at his own pace and time. Eventually, Pam moves on without forgetting the memory of her husband because that part of her life is in her heart. That's when she meets Kao (Ken Zhu).
Alix entices his audience by saying that the "unpredictable weather or ocean was similar to a woman," and that people should watch to see how this "man versus nature" relationship unravels.
Batanes promises not only to highlight Batanes' beauty, but also share a tale about how love could overcome any language barriers or cultural differences. It will be shown on theaters on Wednesday, the 5th of December. Support our local indie produced films.
Here is the trailer:

I plan to visit Batanes on January 2008 to experience winter in the Philippines. Not really—but in Batanes, it's close enough, where temperatures dip as low as seven degrees. And there's no place on the face of the globe where the possibility of winter is more enthusiastically welcomed than in the tropics.