The great thing about blogger meet-ups is the fact that I am usually the oldest in the group.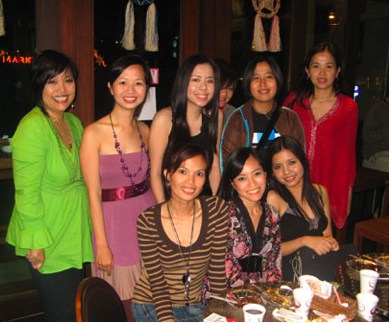 Mingling with young bloggers means that I get to babble endlessly about techie topics which I can never really discuss with my husband or non-blogger friends. Oh I talk with my daughters but I seem to know more about computer gadgets and other tech topics than they do. Last night, Shai Coggins, co-founder of B5 Media took time off from her vacation to the Philippines for a meet and greet in Kape Isla at Serendra. Shai was one of the first bloggers that I often visited when I launched this blog. In fact, I lovingly stole her Tell Me About You idea which paved the way for me to explore other blog topics other than grief education. Meeting Shai and other blogger friends in the cozy cafe covered a lot of activities like ranting about Google's Page Rank Penalty, the Trillanes Revolt , the curfew, Monetizing Blogs, raving over the B5 media Schwags, Shai's personalized prints and Sasha's fashion loot. But aside from the company of Shai Coggins and the bloggers, the other limelight of the party was this cute little thing…
called the Asus Eee Pc owned by one of the bloggers. I thought I could buy this cute gadget in Singapore but it wasn't available then. Yesterday, we dabbled with the new affordable ultraportable notebook that's on many consumers' Christmas wish lists this year. Just weighing under 2 pounds, the Xandros Linux-powered "ultra-mobile PC" is almost half the size of my macbook. At a starting price of only 16,999 pesos or US $395.00, it cost so much less than those high-end mobile phones. Quite affordable, right? The Eee PC 701 4G in ASUS' words is ""Easy to Learn, Easy to Work, Easy to Play" is really true. We had fun playing with the webcam as you can see below.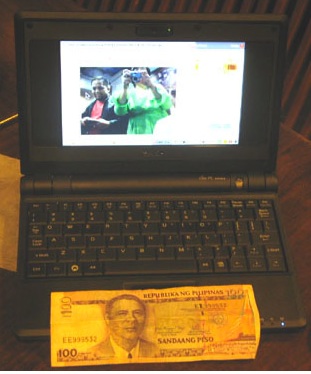 The small seven-inch, 800 x 480-pixel display is quite pretty easy on the eyes and doesn't seem too small. Well, despite the fact that the width is just as wide as our 100 peso bill, it showed a clear resolution. The guy bloggers though had large hands so it took getting used to the keyboard of this mini-laptop. Sometimes I regret buying the macbook because this nifty Asus Eee PC can fit snugly in my handbag. I bet this ultraportable laptop will appeal to a lot of grandparents and young kids or even those who could never afford to buy a laptop. Keep in mind that this is not a full-blown laptop. If you want an inexpensive, light-weight system that can handle all the home, work, and Internet basics, the Eee PC 4G may be all you need. (read more on Asus Eee Pc?)
I am digressing so much but that's what most of us did last night aside from indulging in Chocolate Fondue, sipping coffee, binging on cocktails and chatting with Annalyn, Rico, Jayvee, Juned, Ely, Eugene, Sonny, Marc, Sharm, Jonas, Sasha, Toni, Azrael, Mike Abundo, Karla, Carlos Castellon and Renzie Baluyut.
I realized it was almost midnight before I called it a night. Good thing Butch didn't SMS me to go home as he often does whenever I am out without him. He tolerated my late-ness since I cancelled a lot of my appointments the past night just so I could join this Blogger's Meet-up. The meet-up served as an avenue to share ideas, insights, entertaining tidbits with my fellow bloggers, and finally meeting b5media's Shai Coggins.
I look forward to more meet-ups this holiday season. Anyone?
View photos I took of …