"Fallen Cradle" is the title of the book which I am a part of. (View the book cover) Friends like Cathy Babao-Guballa, Alma Miclat, Agnes Prieto, Pia Cayetano are among the 22 parents who contributed to the literary anthology on their experiences of the loss of a child. Like Cathy said : "it promises to be a literary exploration of the many faces (and phases) of losing a child. " The book is edited by award winning authors Agnes Prieto and Ricardo de Ungria.
Do drop by and take a look at our book and meet the authors as well.
When: May 3, 2005 at 5:30 PM
Where: Powerbooks at Greenbelt 4 , Makati Avenue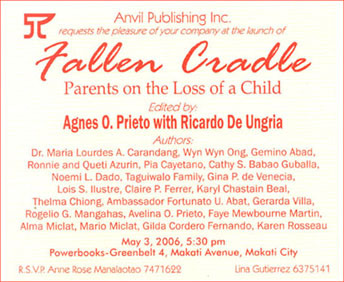 I don't think I will ever come out with a book . Perhaps my husband will when he retires. Alma Miclat is scheduled to launch her book, "Beyond the Great Wall" , on May 5 at National Book Store, Shangrila Plaza Mall, EDSA at 6:00 PM. The book is co-authored by her husband and 2 daughters. My sister is writing a fictionalized version of the deaths in our family (my mom, dad, 2 brothers and my son). When she first approached an agent, my sister was advised to remove one death in the family because "truth is stranger than fiction". Imagine that.
*EDITED (April 11) – Just received the invitation from Anvil Publishing Inc. : The complete list of authors are : Dr. Maria Lourdes A. Carandang, Wyn Wyn Ong, Gemino Abad, Ronnie and Queti Azurin, Pia Cayetano, Cathy S. Babao Guballa, Noemi L. Dado, Taguiwalo Family, Gina P. de Venecia, Lois S. Illustre, Claire P. Ferrer, Karyl Chastain Beal, Thelma Chiong, Ambassador Fortunato U. Abat, Gerarda Villa, Rogelio G. Mangahas, Avelina o. Prieto, Faye Mewbourne Martin, Alma Miclat, Mario Miclat, Gilda Cordero Fernando, Karen Rosseau